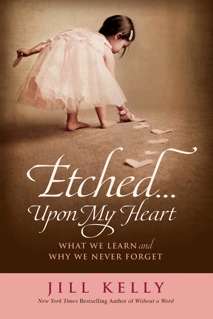 Do you wrestle with the challenge of how to raise kids in a God-honoring way in this crazy world? Jill Kelly (wife of former Buffalo Bills quarterback Jim Kelly) has just released a new book called Etched… Upon My Heart. In Etched… Jill shares episodes and reflections from her own life as a way to inspire us all to pass on our knowledge of God's steadfast love and grace to our kids.
"God will break our hearts, but He will hold the pieces. He will cradle us and redeem every tear we cry." ~ Jill Kelly
Jill Kelly is no stranger to pain, including her young son Hunter's death & her husband's infidelity). But she chooses to share her story of forgiveness, reconciliation, and hope. Through the moments in time that Jill Kelly recounts, readers will recognize the daily reality and eternal value of God's plan for their own lives.
"Etched… is an outpouring of my heart, wrapped in narrative experiences and shared with the hope of encouraging mothers and women in general to stand fast in the midst of the battle for the heart. I recount various moments and experiences in each chapter that relate to my own spiritual growth curve. My hope is that the reader will contrast their own life against my experiences and grasp the realization that we share many common struggles as women and mothers." ~ Jill Kelly
In 1997, Jim & Jill Kelly were faced with a diagnosis for their infant son, Hunter. The disease was Krabbe Leukodustrophy, and it was fatal. Months later the couple founded Hunter's Hope Foundation to help children suffering from Leukodystrophy and their families. You can connect with Jill there or on her own website, via Facebook, or on Twitter.
One Simple Pen reader will win a copy of Etched… Upon My Heart. To enter, simply leave a comment on this post. (If you're reading via email or an RSS reader, click through the title of this post to get to the comments.)
Entries will remain open until Monday, January 28 at 9 p.m. EST. One winner (US address only) will be randomly chosen. The winner will be emailed and will have 48 hours to respond. If there is no response, a new winner will be chosen.