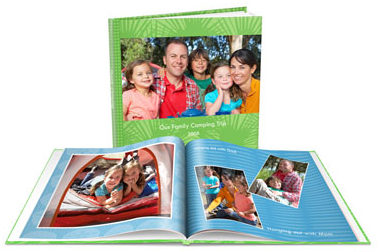 There seem to be many photo book deals popping up lately. As I was posting them, I started thinking of creative ways to use these books. Sure, you could make a book about the vacation you took or a brag book for grandparents. But I got to thinking…. Why not make an educational book for a child?  Here are my ideas.
My House ABC Book
Take 26 pictures of everyday items around your house, each one starting with a different letter of the alphabet. In fact, recruit your child's help, having him/her find items that begin with each letter. Then take the child's picture with each item. Arrange them in an alphabet book.
Rhyming Words Book
Emma's SO excited about rhyming words right now. It might be fun to choose one word and then find four items that rhyme with that word. Take pictures of those items, and group them on a page in your photo book.
Child Illustrator
Emma is just now starting to get interested in coloring. She's been making some adorable birthday cards for family birthdays. I thought it would be fun to help her write a story (with me typing the words) and then have her illustrate the story. I could scan her pictures and upload those as my images for the book. I could add her name as the author and illustrator on the front cover. We could even include a little author bio on one of the first pages.
Science Book
With Fall just around the corner, there's no better time to do a study of leaves from different types of trees. I was considering taking our camera on a nature walk and taking pictures of different trees and their leaves. We could then grab a book or two from the library and learn a little bit about the different types of trees. Each two-page spread of our book could include a picture of the tree, a close-up picture of the tree's leaves, and a few things we learned about the tree.
The Tale of Your Prince or Princess
Who wouldn't love to be the star of their very own fairy tale? Why not write up a short once-upon-a-time-style story with your child as the hero or heroine? Have him or her dress up as a price or princess in different poses, and include those pictures with your story.
Those were just a few ideas that popped into my head as I was thinking about ways to use these photo books. Do you have some other ideas? I would love to hear them! Maybe we'll be filling our bookshelf with the books we create!
Looking for photo book deals? Check out all of the photo deals that I've posted.
Linked to Frugal Friday hosted by Life As Mom.