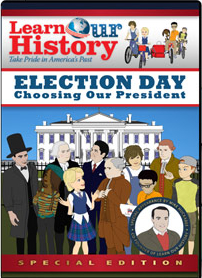 If you're a homeschool family or just want to help your kids learn more about the election process, here's a great freebie for you. Right now you can get a free U.S. Election DVD from Learn Our History. The animated DVD teaches about the US election process in a way that's easy for kids to understand.
With the DVD, you also get learning guides and the ability to stream the video for free.
We ordered this DVD right before last November's election, and I'm planning to use it with Emma the next time we study the election process. I would say that it's best suited for kids in grades 3 or 4 and up.
There's a small $4.95 shipping fee for the DVD. You'll also be agreeing to receive future DVD releases. You're not obligated though, and they do send a reminder email before they ship the next one. If you love them, then you can keep learning! If not, then you just send a simple email and ask them to cancel. I may continue this subscription when Emma is slightly older, but I did find the cancellation process super simple.
Click here to check out the details of the free offer or to get yours.