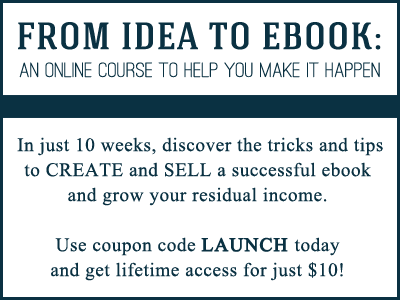 Do you have an idea that you'd like to turn into an ebook? Ebooks are a great way to add another stream of income. The problem? Most of us don't have a clue where to start.
That's where my friend Mandi comes in. She's offering a way for you to take your idea and turn it into a profitable ebook. Her course, From Idea to Ebook: An Online Course to Help You Make it Happen, will walk you through all the steps to bring your ebook to life. The 10-week course will help you create and sell your book. And if there's anyone I would take an ebook class from, it would be Mandi. She has a proven track record of getting her books published, promoted, and sold.
If you're interested in the course, click here to get signed up. Enter the promo code LAUNCH at checkout, and you'll only pay $10 for lifetime access to the course.