Ahhhh math facts. We're in a vicious cycle of learning them and forgetting them. Part of that is not allowing time or resources for Emma to regularly practice her facts. We get caught up in whatever we're working on at the time, and the facts get pushed to the side. But not knowing the facts (and being lightning quick with them) makes any math work take longer to complete.
Earlier this year, I picked up four sets of these beauties…..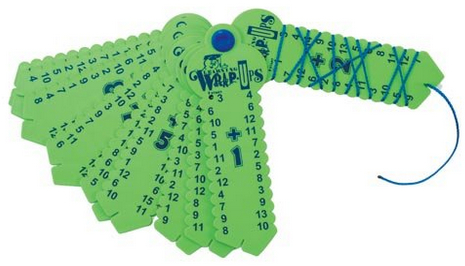 Math Wrap-Ups
Math Wrap-Ups are simple to use. You wrap a string around each key, starting with the top number on the left side. You add whatever the big number in the middle is and wrap the string to the answer on the other side. You keep going, working your way down the numbers on the left. When you're done, you hook the string at the bottom (so it doesn't fall off) and flip the key over. If your string matches the marks on the back of the key, your answers are all right! If they don't match, you got off track somewhere and need to go back and fix it.
The verdict? Emma LOVES these. She plays with them without me even asking. She tells me how awesome they are. She's having fun. She's practicing math facts. We all win.
Math Wrap-Ups are available in these topics:
They also make Wrap-Ups for chemistry, keyboarding, history, and more! Click here to see what's available.