Winners of the Kids Gift Guide Giveaways: Congrats to Emily who won the Imagination Station book set. Congrats to Jennifer who won the $50 Petite Lemon gift certificate.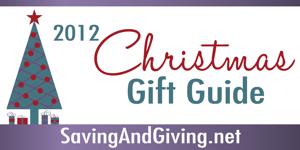 Big Kids! Teens and tweens can be harder to buy for, especially if money and gift cards top their wish lists. Not to worry. We even have ideas for that!
Once again, I'm partnering with Amy from The Finer Things in Life to bring you some of our top picks for babies, kids, grown-ups, and the home. Neither of us has a teen in the house yet, but we chose products that we've used or that look like fun for the older kid crowd. (Several were husband-approved!) We also had some great tips from parents of teens on Facebook. Here are our top picks for teens and tweens.
Let's face it. Kids love their gadgets. And their gadgets play music. Amazon gift cards are probably high on most kids' wish lists. (Let's be real… They're probably high on most grown-ups wish lists!) You can choose cards from $10 on up. You get free one-day shipping, or you can choose to print your own or email the card. They definitely make it easy to get gift cards into the right hands.
I like gifts that combine function with relaxation. This iPod speaker desk lamp plays, charges, and adds light to your iPod. Plus it comes in fun metallic colors to match the iPod Nano colors. This just might make sitting at a desk doing homework a little bit more enjoyable. Plus it's made by iHome, a company known for quality iPod speaker systems.
I love gifts that spark kids' creativity. This is another one of those that won't stay in your house for long. The kids can use it to create gifts for friends. This spinning tool uses regular embroidery floss to make unique bracelets in minutes. Kids can set the looping style, thickness, thread quantity, and color combos to create all kind of designs. The spinning tool is kid-powered (no batteries – yay!). It comes with 18 skeins of embroidery floss.
Big kids love to do their own shopping. Cash & gift cards can seem so impersonal though. Maybe wrapping them differently can solve that and add a little fun to Christmas morning. Just slide the money, gift card, or tickets into this cash maze and close the lid. (Your part is easy!) The kids will have to roll a ball through a bi-level maze to get to their gift. Jason got one of these for Christmas years ago, and we still remember it.
We grew up with puzzles. So much fun! The 4D New York City Skyline Time Puzzle takes puzzle building to a whole new dimension. This puzzle recreates Manhattan's famous skyline not only in three dimensions using scale-model buildings, but also along the axis of fourth dimension time, spanning 101 years of its architectural history. Actually, forget the teens. My husband saw this and claimed it for his own Christmas list!
Here's another one that Jason said I could add to his Christmas list! I can just see him buzzing it by the dog. These helicopters are small, lightweight, and made for indoor flying.
Glow-in-the-dark slime, color-changing slime, gooey slime. This is a fun (and somewhat educational) gift for the budding slime scientist. We bought one for a friend of ours. He had a ball with it. I think his mom did too. 😉
Play hard, pray harder. From t-shirts to key chains, water bottles to laptop covers, ScriptureArt offers gifts with a statement for kids of all ages. Their best selling Promise Packs™ are a wonderful tool to for focusing on God's Word, and they make a great stocking stuffer.
Everyone needs a safe place to stash their valuables, right? This one is cleverly disguised as a soda can. This should keep valuables safe from burglars (especially the younger brother & sister variety). The cans come in sorts of 'flavors' too: 7-up, A&W, Arizona Ice Tea, Brisk Ice Tea, Dr. Pepper, Mug Root Beer, Monster Energy Drink, and RC COLA.
My dad got this for Christmas last year. It's not a game for the faint of heart (or mind!). The cards show how the cars should be set up. Then your job is to move them to help the red one get out of the mess. My whole family was in on the action. This is a fun, compact game that includes a storage bag.
This is not your grandma's sled. If your teen is looking for more of a luge-type of experience on a sled, this is it. The bottom rails let you slalom downhill. You can use your feet to control your speed. And for people like me, there's a lever you can use for a handle. Check out the video and you'll agree that the handle is a must-have! This sled can handle up to 250 pounds.
Who says zip lines are just for adventure areas or amusement parks? Why not create your own in the back yard? Yep, that will indeed win you the coolest mom (or dad) ever title. This is a 35-foot zip line that holds 100lbs. Or opt for the Fun Ride Deluxe Zip Line
that holds up to 225 lbs on a 70-foot cable. Either way, you're helping kids build strength and athletic ability. Plus it's just plain fun.
The Giveaway
Now that you've checked out our ideas for big kids, it's time to give away a fun gift.

One Saving & Giving reader will win a $40 gift certificate to the Scripture Art website. Use this for t-shirts (guys or gals), Promise Packs, tablet or laptop covers, wall appliques, or all sorts of personalized gifts (mugs, keychains, luggage tags, water bottles, iPhone cases, and more). You can choose whatever you like.
I'm loving the way that these Scripture Art products help you remind kids of God's word. And they do it in a way that appeals to teens and tweens (and grown-ups!).
To enter: Leave a comment on this post.

Want an extra entry? Check out the Scripture Art website and tell us which product you really like. Be sure to leave a separate comment for this entry.

Want another extra entry? Sign up for the Saving & Giving Christmas Gift Guide email newsletter and leave an extra comment saying that you did.
Entries will remain open until Wednesday, November 14, 2012 at 9 p.m. EST. One winner will be randomly chosen. The winner will be emailed and will have 48 hours to respond. If there is no response, a new winner will be chosen.