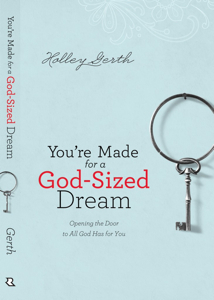 Do you have a dream? Or maybe just a little spark of a dream? Or are you a dream who's let your dreams die?
If you're any of those, my friend Holley has a brand new book coming out that you NEED to order. You're Made for a God-Sized Dream: Opening the Door to All God Has for You will encourage you to ditch the excuses (You know we all have 'em) and make your God-sized dreams become reality.
The best part? If you pre-order the book, you can get it for half price! Right now you can pre-order You're Made for a God-Sized Dream for $6.99. You won't have to wait too long either. It's due to release on March 1. 😉
We all long to live with more purpose, passion, and joy. Yet in the middle of our hectic lives, the God-sized dreams that have the potential to lead us into all God has planned for us are the ones that tend to get lost. With her intimate, approachable style and constant encouragement, popular blogger and author Holley Gerth invites women to rediscover the big dreams God has given them–and then dare to pursue them.

With the enthusiasm and honesty that we all want from our closest friend, Holley encourages women to overcome excuses–too busy, too late, too far out of my comfort zone–and believe that their God-sized dreams can become reality. She takes readers by the heart and says, "Yes! You can do this! Let's go!" and then guides them forward with a loving hand. A licensed counselor and certified life coach, Holley insightfully combines inspiration with practical application in this positive book.
So what are you waiting for? Time to dream, my friend. Click here and pre-order your copy of the book. Then, after you read it, come back and tell me what you think. I can't wait!