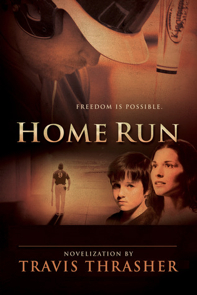 I've been hearing a lot of buzz lately about the new faith-based movie Home Run that's scheduled to hit the theaters on April 12. I love it when Christian producers create such high-quality movies that the general public can't help but notice. When they weave in an amazing ministry like Celebrate Recovery, it's even better.
Home Run reminds us of the power of forgiveness, the richness of redemption, and the wisdom of trusting God to revive us." ~ Max Lucado
The Home Run story is about baseball all-star Cory Brand. Cory is a winner in the big leagues, but his life is spiraling out of control. After a DUI, he's suspended from the team and sent back to the small town where he grew up. Being forced to coach the local youth baseball team and spend eight weeks in the only recovery program in town, Cory can't wait to return to his old life. But through the process, he discovers his own need for freedom from his past, hope for his future. and a second chance with the love he left behind.
If you're interested in checking out the storyline before the movie is released, you can read Home Run in novel form.
You can also learn more about Home Run (the movie) by visiting their website or Facebook page.
The Giveaway
One Simple Pen reader will win a copy of Home Run (the novel). To enter, simply leave a comment on this post.
Want an extra entry?
Subscribe to our free daily email newsletter. Just click here and enter your email address. You'll get an email asking you to confirm your subscription. Only confirmed subscribers will be eligible for this bonus entry. Already a subscriber? Just leave a comment saying that you are.
Entries will remain open until Monday, April 1 (no fooling!) at 9 p.m. EST. One winner will be randomly chosen. The winner will be emailed and will have 48 hours to respond. If there is no response, a new winner will be chosen.
Disclosure: I received a copy of Home Run in exchange for conducting this review and giveaway. All opinions are – as always – honest and my own.