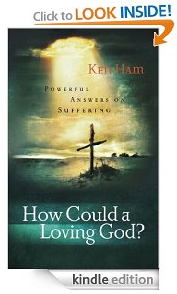 If you – or someone you know – has ever asked the question "How could a loving God allow ______ to happen?" the book How Could A Loving God
might be a good read.
Our church hosted an Answers in Genesis conference this weekend, and the speaker touched on the topic and then recommended this book. When I looked for it on Amazon, I saw that the Kindle edition was only $.99 right now. (That price could change at any time, so please verify the price before you buy.)
People assume Christians have all the answers—yet, in the face of tragedy, death, or suffering, everyone struggles to find just the right words to bring comfort or closure to those in need.

Sometimes just hearing "It is God's will" isn't enough. Sometimes just saying "God will turn this to good" seems so meaningless when despair is so profound.

Often the pain goes too deep, the questions won't go away, and even the assurance of faith doesn't help. How could God let this happen? How can God love us, yet allow us to suffer in this way? What is the point of this—what is the purpose?

In this provocative new book, Ken Ham makes clear answers found in the pages of Scripture—powerful, definitive, and in a way that helps our hearts to go beyond mere acceptance. When you grasp the reality of original sin—and all that it means—it creates a vital foundation for your heart to finally understand what follows.