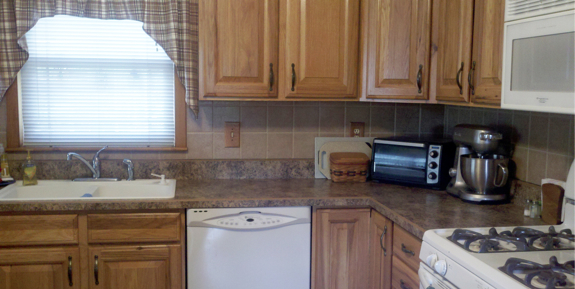 I've always struggled with keeping the kitchen clean. Some days I'm flying along easy peasy, keeping things as clean as can be. Then other times life gets crazy and I let the dishes pile up to more than the dishwasher can hold. The counter is covered with days of mail and crumbs from multiple meals.
The problem is that all those seemingly small messes add up to one monster of a task. And it happens in the blink of an eye.
I've been successfully beating back the messy kitchen monster (most days) for a while now. And it all started with three little letters.
N – O – W
You see, I'm the master of procrastination. And really… Who couldn't find ten things more appealing than handling a messy kitchen?
But lately I've been using the NOW tactic.
Now Not Later
"I'll get that after I….." Famous last words.
Instead of putting off the kitchen cleaning tasks, I'm doing them now. Right now. Because odds are good that I'll get busy doing something else or I'll just forget about the task.
Do it now. Then it's done. [Click here to tweet this.]
The Great Pile-Up
Is it just me or do piles grow overnight? Paper multiplies like bunnies. I leave one little thing on the counter when I go to bed and *poof* I have a pile of things I have to deal with the next day. Laying on the counter is permission to lay something else on top of it. And that little pile gets out of control quick as a wink.
Lately I've been a tyrant about thing on the counter. Oh, I don't get all over my family for leaving things there. I just deal with the stuff (or nicely ask them to put it away). That way we're not tempted to leave more things behind.
A Quick Minute Now or 20 Minutes Later
Taking care of things NOW usually only takes a quick minute. If I sacrifice those quick minutes throughout the day (when the messes appear), I don't get stuck spending 20 minutes in the kitchen at the end of the day. Added bonus – I don't have to spend 10 minutes clearing a space on the countertop for dinner prep. 😉
Reality Check
So does my kitchen stay clean all the time? Heavens no! This past weekend we had a garage sale. That meant a lot of dump & run with dirty dishes. It meant a big kitchen clean up when everything was over. Most days we're keeping it much cleaner and just allowing ourselves grace on the days when it just doesn't happen.
The Spillover
I've been focusing my attention on keeping the kitchen clean for about three weeks now. My NOW theory seems to be working. Sure, things get crazy and NOW gets stretched out a bit from time to time.
The best part about putting NOW into action? It's starting to spill over into other areas of the house. (Can I get a WAHOO on that one!?) I've even been cleaning up my clothes from the bathroom floor (miracle!). I'm hoping that I can get in the mindset of cleaning up whatever messes I see throughout the day. If I can, that should make a huge difference in the house!