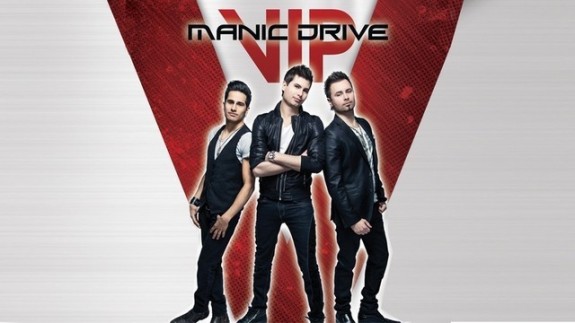 Are you ready to get up and dance? Well if you are, pop in the newest Manic Drive CD "VIP". We had it playing this morning, and there was definitely dancing in the kitchen at our house. I just love it when we find music that appeals to us AND to Emma. I had it playing on my laptop, and she asked if it was only on the computer. That's her code for "Is there a CD I can swipe so I can play it for myself?"
The title track definitely has a throwback 70s-80s feel to it! There may have been a few disco moves thrown into this one during our kitchen dancing. 😉
This Canadian trio is very intentional about reaching their generation and inspiring them to pursue a deeper walk with Christ and to get involved in changing the world they are inheriting. They're uniquely equipped to do so. The band members, all in their early-mid twenties, have made sacrifices to pursue God's call on their lives. Their life experience, spiritual maturity and ministry have opened doors to speak into the lives of their own generation and that is perhaps the most defining characteristic of this group of guys.
Be sure to check out more of their videos on YouTube or connect with them on Facebook and Twitter. This is definitely a group of guys worth following.
The Giveaway
One Simple Pen reader will win a copy of Manic Drive's new CD "VIP" (kitchen dancing optional). To enter, simply leave a comment on this post. Feel free to tell us your favorite place to dance… but that's not required. (If you're reading via email, click here to leave a comment.)
Entries will remain open until Friday, November 14, 2014 at 9 p.m. EST. One winner will be randomly chosen. The winner will be emailed and will have 48 hours to respond. If there is no response, a new winner will be chosen. U.S. addresses only please. Only one entrant per mailing address, per giveaway. If you have won the same prize on another blog, you are not eligible to win it again. Winner is subject to eligibility verification.
Disclosure: I received a Manic Drive CD in exchange for hosting this giveaway. All opinions are – as always – honest and my own.