True confession. The last time I hopped into our Mountaineer to drive somewhere I realized we were overdue for an oil change. And not just a tiny bit overdue. We're talking MONTHS overdue. Months and months. Like almost a year kinda months.
Our van gets better gas mileage, so we don't drive the truck much. When we divide and conquer, I usually end up taking the van, and my husband drives the truck. The problem? I'm usually the one who keeps tabs on the little oil change reminder sticker in the window.
But the actual act of getting the oil changed? Not usually my gig. You start talking viscosity and filters, and my head starts to spin a bit.
Fortunately, I was contacted by the people from Motor Oil Matters about helping people get the best oil change possible. (Do you think they KNEW how overdue for an oil change we were?) Motor Oil Matters (MOM) is a new consumer education and industry watchdog program created by the American Petroleum Institute. They want to teach us all how important it is to use quality licensed motor oils. Plus they want to call on the carpet service providers who aren't being up front about the quality of the oil they're using.
Did you know:
AAA expects to help over 8 million drivers between Memorial Day and Labor Day? That's a lot of broken down vehicles this summer! Maintenance is the key to making sure you're not one of those people who need help. And using quality oil in your car goes a long way to preventing problems.

Many service-locators are quick to offer discounts if you're trying to save a few bucks on your car maintenance. (And who doesn't want to save a few bucks?) Just make sure that your local provider is pouring quality motor oil in your car before you decide on a cheaper deal. You don't want to end up paying more in the long run.
So how's a girl supposed to know what's best for her vehicle?
Glad you asked. 😉 The folks over at Motor Oil Matters have created an oil change checklist just for us.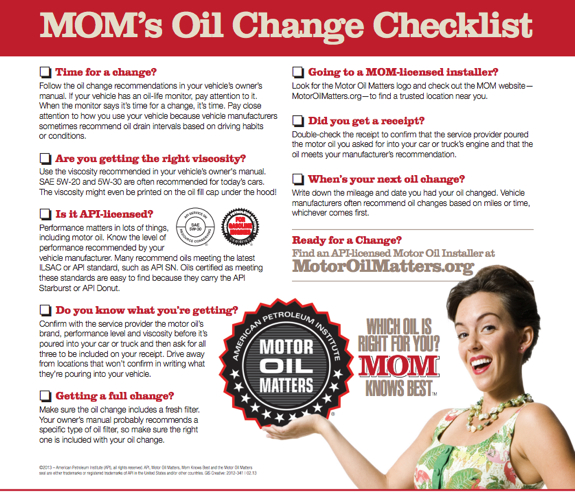 Click here to enlarge
I'll be taking this checklist along with me the next time I get my oil changed. I might even sound like I know what I'm talking about! At least I'll know what I should be looking for in a quality oil change.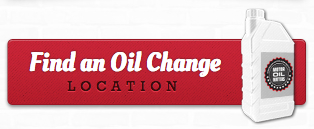 They've also made it easy to find a MOM approved oil change location. Just use the oil change locator on the MOM website. Or if you know of an oil change location that meets the MOM standards, encourage them to become a MOM member.
For more car maintenance tips, be sure to follow MOM on Facebook and Twitter.
I'm printing my checklist and heading out to get the oil changed. I'll be back to share my Mom's-in-charge-of-the-oil-change experience with you. 🙂
The Giveaway
So who wants to join me for an oil change? Well, you won't actually be hanging out in the Mountaineer when I get the oil changed. Instead MOM will send you a $50 Visa gift card that you can use toward your next oil change. (Just promise me you'll take along the checklist so you KNOW you're getting it done right!)
To enter, leave a comment on this post. Tell us if your oil change is up-to-date or if you're like me… WAY overdue!
Want an extra entry? Check out the MOM Oil Change Checklist and leave a comment sharing one thing you learned.
** If you're reading in an RSS reader or via email, you may need to click here to leave a comment. **
Entries will remain open until Friday, July 12 at 9 p.m. EST. One winner will be randomly chosen (US addresses only please). The winner will be emailed and will have 48 hours to respond. If there is no response, a new winner will be chosen.
Disclosure:The Motor Oil Matters information and gift cards have been provided by Motor Oil Matters. All opinions (especially the one about my truck being WAY overdue for an oil change) are honest and my own.