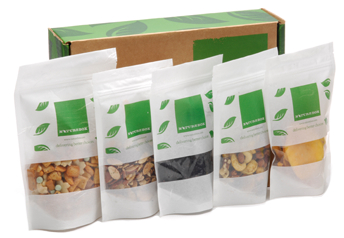 Wahoo! A couple of weeks ago, I ordered a NatureBox. It came today. Of course we waited patiently to taste the snacks ripped into it and tried a couple of the snacks. All we can say is… YUM. Today we tried the dried pears and the Pistachio Power Clusters. I stashed the Lemon Pucker Pistachios, Masa Crisps, and Wild Blueberry Flax Granola so we can enjoy them later.
Haven't heard of NatureBox? They're new to me too! NatureBox delivers healthy snacks to your door. Each month you get 5 full-sized packages of different healthy snacks. You can mix-and-match your own choices or let NatureBox surprise you.
The regular price for the snack box is $19.95. That's not bad for 5 full-sized products. But right now you can get your first box for just $4.95 (including shipping!) when you use the promo code STARTNEW at checkout. And when you buy your box, NatureBox also feeds a child in need. Win-win!
The NatureBox snacks have:
no high fructose corn syrup
no partially hydrogenated oils
no trans fats
no artificial sweeteners
no artificial flavors
no artificial colors
Oh and did I mention they deliver it to your door? No more scrambling to have healthy snacks at the ready. 🙂
Click here to check out the boxes or to get yours.
Thanks for the promo code, Kansas City Mamas.