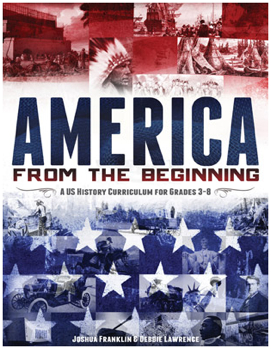 I made a tough decision before Christmas. I decided that we would not be finishing our Social Studies book. It's a great book. In fact, we absolutely love it. (Seriously… If you want a quality in-depth look at American history, check it out. It's America… From the Beginning from Answers in Genesis.) And because we love it, we're not going to finish it.
At least not this year.
Let me back up a little. I'm a task-oriented former 5th grade public school teacher. That means that, in my mind, you choose a textbook, use that textbook, and finish that textbook (or as much of it as humanly possible) in one year.
I'm also a homeschool mama who's a huge fan of kids learning American history and learning it well. That's my reason for not finishing the book. I decided that instead of plowing through the whole thing this year, we're going to dig deeper into each unit's information and really learn it.
Most of the units up to this point have taken us 6-7 days to complete. However, we just finished a unit on the American Revolution that took us WEEKS. Why weeks? We didn't just read, do the maps, do the timelines, and answer the questions. (Though that's all good stuff!) We picked apart each of the lessons in the unit. We only read small segments of them each day. As we met the people and watched the events unfold, we also did this…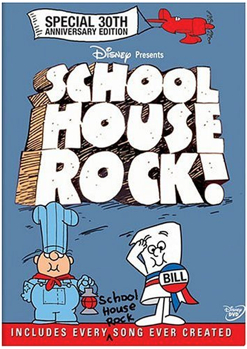 Oh we didn't just watch them. We memorized the lyrics to the songs. I can't tell you how many times we've sung No More Kings, Fireworks, and The Shot Heard 'Round the World. But I can tell you that Emma knows them by heart and can explain to you what she's singing about.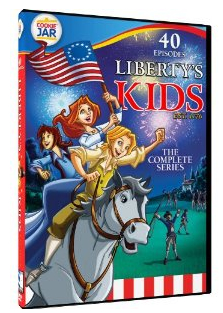 We watched an episode or two of Liberty's Kids each day. These worked hand-in-hand with what we were reading. We would read in our book, discuss a bit, sing about it, and then watch it play out on the DVD.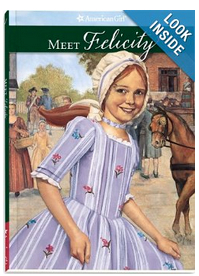 Got to Know Felicity
Emma read the Felicity series of American Girl books. We also completed this Felicity Lapbook project. We made some recipes from Felicity's Cooking Studio. We'll be wrapping up this week with some of the activities in this free Felicity Learning Guide. Emma loved seeing the Revolutionary War time period through the eyes of a young girl.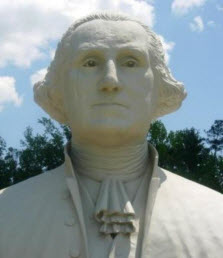 Photo Credit: bluepoetje
Got to Know Some Famous Americans
We made baseball card-type info cards about the famous Americans we studied. On the front, Emma glued a picture of the person. On the back, she wrote a couple of things that made them important to the Revolutionary War effort.
There's no way we could have done all of this if we just plowed through the unit in a week or so. Sure, she would've gotten the general idea of the causes of the war. She would've been upset with King George. She would've cheered for Paul Revere & George Washington. But she wouldn't have stopped to think about what it was like to live at Valley Forge for the winter. She wouldn't have seen a young girl struggle to decide if she was a Patriot or a Loyalist.
She finally took the unit test yesterday. Though we don't put a huge emphasis on tests, I wondered how she would do with this one, especially since we had started this unit way before Christmas break. But you know what? She got every single question right. All of them.
Even better than scoring well on a test though was our conversation last night. She told me that this was the most fun thing she's studied.
So… While the taskmaster in me would love to finish the book this year, the America-loving mom in me wants her to stay this passionate about history. I'm pretty sure we all know who's going to win that struggle. We'll continue to dig deep and learn as much as we can, studying America's story this year AND next year.