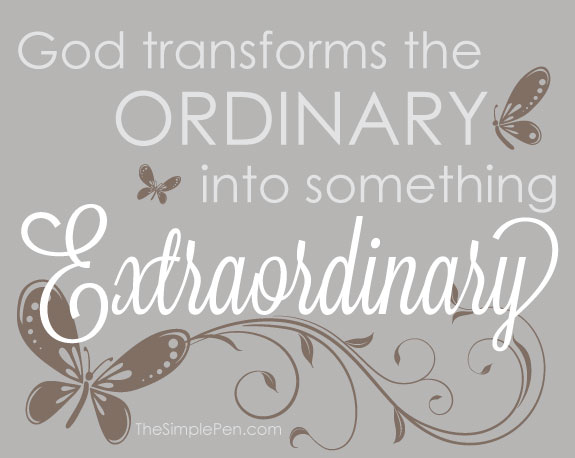 Every quarter, a magazine from our college alma mater makes its way into our mailbox. It's a professional-looking publication that highlights campus happenings and alumni activities. The goal (other than ongoing fundraising 😉 ) is to keep alumni connected with the college and showcase some extraordinary things that grads are doing locally and around the world.
While flipping through a recent edition, I caught myself evaluating what we do compared to what the featured alumni are doing. They're serving in nursing missions in third world countries, opening crisis pregnancy counseling centers, and starting after-school programs in the inner city. Big things. Life-changing things. When I held up their extraordinary accomplishments against our daily activities, I felt very…. ordinary.
A Different Perspective
Then I realized that what we're doing IS big.
It's life-changing.
We're pouring into Emma each day as we homeschool. We're teaching her how to be a better writer, how to appreciate God's creation, how our country was founded on godly principles, and how to extract life lessons from literature. Those are valuable tasks, but even more importantly, we're helping her discover who she is, how precious she is to us and to her Heavenly Father, and which unique talents and gifts she can develop.
God can work through those ordinary moments and create something extraordinary out of them. A girl who knows who she is and – more importantly – whose she is? If our ordinary moments add up to that, I would call it quite extraordinary.
We're in Good Company
Last weekend, our pastor spoke about Moses. After being part of Pharaoh's family, he ended up spending his days tending sheep for his father-in-law. Talk about ordinary! But through that very ordinary situation, God did some extraordinary things. After spending hundreds of years in captivity, the people of Israel were led to freedom by Moses…. the prince-turned-shepherd.
Even Jesus came to Earth in a very ordinary way. While God's people were anticipating a conquering king, He came instead as a lowly babe, born to a rather ordinary girl. Yet He transformed forever our ability to access the God of the Universe. Extraordinary!
Transforming Your Ordinary
Do you ever feel completely ordinary? Maybe, like me, you just need to change your perspective on where you are and what you're doing. Looking at our circumstances and activities with an eternal perspective might just cause all of us to do a double-take. We may discover God transforming our ordinary into something extraordinary.
Free Printable
I've created a free printable to help us all remember to view our ordinary as extraordinary. You can click here to download the 8×10 PDF. Simply print, trim the white off, and it's ready for a frame. I hope it's a visible reminder of how extraordinary you are!