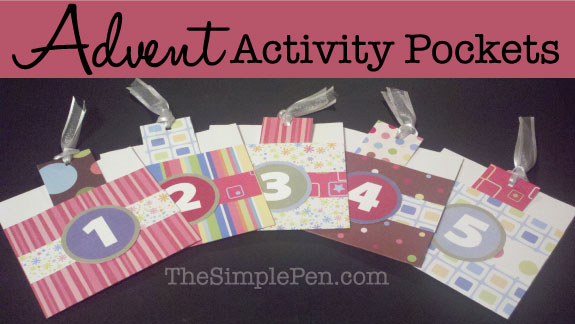 If you're looking for a fun way to count down the days to Christmas, here's one that you can make. I created these Advent Activity Pockets a couple of years ago, and Emma LOVES them. Each brightly-colored pocket contains a folded message. Every morning Emma pulls out that day's activity, and we do it. She enjoys the mystery of what the day will hold. I like that I can place the activities on days where they'll work with our schedule.
Here's how you can make your own pockets.
Materials:
Directions: 
Important: Do not discard your scraps as you trim these cards. There will be no leftover card when you're done with your set.
For each pocket, choose a card design.
Keeping the card folded, trim 1.5″ from one end of the 5.5″ side.

Unfold the card and trim 1″ from the top of the card.

Refold the card.
Use double-sided tape to keep the card folded as a pocket.
Attach a 1″ piece from a different pocket to the front of the pocket. This will create a stripe across the front of the pocket.

Attach one of the circular numbers (from this free printable file) to the pocket front. This will represent the date.
Choose a 1.5″ piece from another pocket. Write an activity inside the folded piece.
Punch a hole near the fold of the 1.5″ piece.
Tie a ribbon through.

Insert the activity into the pocket.
You can use this printable list of Christmas activities and trim them to fit inside your cards, or you can write your own activities inside your cards. I like to keep a couple of emergency (easy!) activities on hand for the days when life gets crazy. I have a couple of snow-related activities on our list. If there's no snow, I swap in an alternate activity for that day.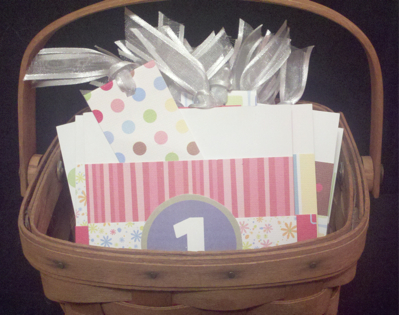 You can hang these as a garland or put them all in a basket. They're definitely colorful to display! I hope you enjoy them as much as we do.