Over the next couple of weeks, I'd like to share with you some posts from the archives. I hope you enjoy them as much as I've enjoyed reading them again!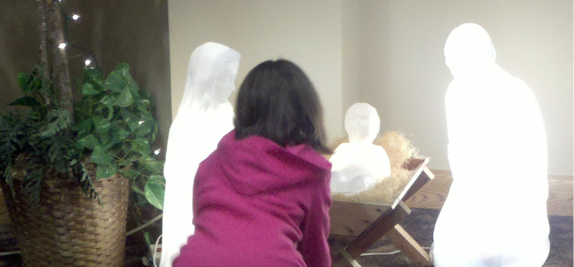 Her immediate response was to drop to her knees. To lean in close. To be quiet.
I saw her from across the room. I stopped and watched as she leaned in, wanting to get a little closer to Him.
Saturday night church was over, and it was almost time to head for home. She spotted Him near the exit door and went for a closer look. I found her quietly kneeling. Sure, it's just a lighted representation of Him. But for her, it was a moment to stop and consider Him.
How often do we walk right by the manger? We say 'Oh that's pretty' and move on. I encourage you this season to stop. Lean in close. Be quiet. Get a little closer to Him. Allow each manger scene you see to be a reminder that He loves us so much that He was willing to bring His beauty into this tainted world.