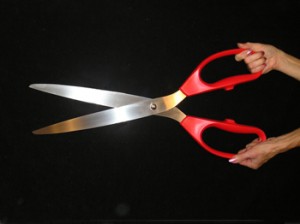 ** I've decided to do this week's coupon preview a little differently. See what you think and let me know if you like having the whole list here instead of having to click away. **
Sharpen up those scissors and get ready to do some major coupon clipping this weekend! Our area (Pittsburgh/Columbus) should see FOUR  inserts this week, 1 P&G, 1 SmartSource and 2 RedPlum.
It's always wise to see the full list of the coupons BEFORE you buy your newspapers. If you happen to see a bunch of them that you know you're going to use, you may want to buy extra papers.
Also, remember to check your newspapers before leaving the store. There have been several times when I've picked up a paper to check it for the correct number of inserts, only to find that some are missing. Better to find that out before you buy rather than when you get the papers home!
Here's what to expect in this week's inserts:
RedPlum #1:
Advil PM 16 ct or larger $1.00/1 x4/3/11
Advil 40 ct or larger $1.00/1 x3/31/11
Children's or Infants Advil 0.5oz or larger $1.00/1 x3/31/11
Advil Congestion Relief product $2.00/1 x3/31/11
Bar-S 16oz franks or bologna $1.00/2 packages x4/25/11
Bertolli frozen meal $1.50/2 x2/27/11
BJ's shopping pass go to March 31, 2011
Caress Daily Silk, Evenly Gorgeous, Velvet Bliss, Glowing touch, Whipped Souffle, Blackberry Cream or White Peach Cream x12oz body wash or larger or 6-bar pack or larger .75/1 x2/27/11
Caress Tahitian Renewal 12oz body wash or larger .75/1 x2/27/11
Cesar treats any $1.00/1 x3/5/11
Cesar canine cuisine entrees buy 3 get ONE FREE value 1.19 x4/9/11
Degree Men or Women deodorant or body mist .75/1 x2/27/11
Degree Men or Women Clinical Protection anti-perspirant & deodorant $2.00/1 x2/27/11
Dove Beauty Bar 6 -bar pack or larger no men+ care $1.25/1 x2/27/11
Dove Body Wash 10oz or larger no men+care $1.00/1 x2/27/11
Dove deodorant or body mist no trial or travel sizes $2.00/1 x2/27/11
Dove Hair Care product no trial $1.00/1 x2/27/11
Dove Men+ care body and face bar 6-bar pack or larger OR Body and face wash 13.5 oz or larger OR Active Clean shower tool $1.00/1 x2/27/11
Dove Visible Care Body Wash 10 oz or larger $1.00/1 x2/27/11
Everlast Nutritional Supplement $10.00/1 x4/30/11
Everlast Nutrition bar Buy One get One FREE $2.49 x4/30/11
Hellmann's products 16.5 oz or larger .40/2 x2/27/11
Grain Berry antioxidant snack crackers $1.00/1 x3/31/11
Grain Berry pancake or muffin mix $1.00/1 x3/31/11
Grain Berry antioxidant cereals $1.00/1 x3/31/11
I Can't Believe It's not Butter 15 oz tub, Stick or spray product Buy One Get one FREE value to $2.99×2/27/11
Keebler Crackers and/or Sunshine Cheez-it baked snack crackers 7.7oz or larger $1.0/2 x3/27/11
Kibbles 'n Bits brand dry dog food $2.00/1 x3/19/11
Knorr Recipe/Sauce/Gravy mix product .50/1 x2/27/11
Knorr Rice and Pasta Sides .50/2 x2/27/11
Land O'Frost Premium one pound Lunchmeats .55/1 DND #5 x4/30/11
Lever 2000 bar soap 2-bar pack or larger .50/1 x2/27/11
Lipton Cup-a-Soup or Lipton soup secrets .75/2 x2/27/11
Lipton Recipe Secrets products .60/2 x2/27/11
Lipton tea bags .60/1 x2/27/11
Lipton Tea bags, Lipton to-go, or any Ices Tea mix .75/2 x2/27/11
L'Oreal Excellence or Excellence to-go shade $2.00/1 x3/27/11
L'Oreal facial cleanser any $1.00/1 x3/27/11
L'Oreal Facial moisturizer $1.00/1 x3/27/11
L'Oreal Le Rouge or any lip product $1.00/1 x3/27/11
L'Oreal Magic Smooth Souffle or any face cosmetic product $3.00/1 x3/27/11
Mars Valentine's Day products $1.00/2 DND#5 x2/14/11
Mrs. T. Pierogies , boxes $1.00/3 x4/30/11
Pedigree Dentastix treats for dogs $2.00/1 x319/11
Perdue USDA Process Verified Boneless Skinless Chicken Breast packages $1.00/2 x3/27/11
Q-tips cotton swabs products .30/1 x2/27/11
Ragu pasta sauce $1.00/2 x2/27/11
Robitussin 4oz or larger no to go 2 ct $1.00/1 x3/31/11
Skippy Peanut Butter Product 15oz or larger .75/2 x2/27/11
Spikes Salsa including picanta & restaurant style .35/1 x2/28/11
Suave Body Lotion product 18 oz or larger $1.00/1 x2/27/11
Suave Body Wash product .25/1 x2/27/11
Suave deodorant product no sweet pea and violet .75/1 x2/27/11
Suave Men's Shampoo or conditioner product .50/1 x2/27/11
Suave Professionals Shampoo or Conditioner product $1.00/2 x2/27/11
Suave Professional Styling Products $1.00/2 x2/27/11
ThermaCare 2 ct or larger $1.00/1 x3/30/11
Vaseline Intensive Rescue Product $1.00/1 x2/27/11
Vaseline Lotion $1.00/1 x2/27/11
Wish-Bone or Wish-Bone Western Dressing $1.00/2 x2/27/11
Zegerid OTC any $3.00/1 x2/26/11
Zegerid OTC 42 count only $8.00/1 x2/13/11
BIG GAME Multi State $8.00 mail in form x3/20/11
RedPlum #2:
Abreva $3.00/1 x8/15/11
Advantage brands $1.00/1.50/1 x3/31/11
Breathe Right 12 ct or smaller $1.00/1.50/1 x3/31/11
Breathe Right 25ct+ $2.00/1.50/1 x3/31/11
Citrucel Bulk Fiber Therapy $2.00/1 x3/31/11
Dickinson's Sweet 'n Hot Pepper & Onion relish $1.00/2 x4/30/11
Ecotrin $2.00/1 x3/31/11
Emerald Nuts product 5 oz+ $1.50/2 x3/13/11
Fancy Feast 3oz cans any $1.00/24 x4/30/11
Fancy Feast Appetizers for cats any $1.00/3 x4/30/11
Fancy Feast Elegant Medleys 3oz cans $1.00/18 x4/30/11
Fancy Feast Gourmet Dry Cat Food $1.00/1 x4/30/11
Jimmy Dean fully cooked product $1.00/1.50/1 DND #5 x3/6/11
Jimmy Dean Sausage rolls $1.00/2 x4/17/11
Naturally Delicious Dressing $1.00/1 x4/11/11
Naturally Delicious Mayonnaise $1.00/1 x4/11/11
Naturally Delicious Barbecue sauce $1.00/1 x4/11/11
Nestle Coffee-mate liquid creamers $1.00/2 x4/30/11
Nestle Coffee-mate powder creamers $1.00/2 x4/30/11
Nestle Toll House refrigerated cookie dough $1.00/1 x2/14/11
Nestle or Wonka candy fun size bags 9oz+ $1.00/2 x2/28/11
Os-cal calcium supplement $2.00/1 x3/31/11
Pop Secret products $1.00/2 x3/13/11
Purina Alpo single cans any size-variety $1.00/8 x3/14/11
Purina Alpo 13.2 oz or smaller can dog food B1G1F to 89¢ x3/14/11
Purina Beneful Prepared Meals B4G2F to $4.58 x4/1/11
Purina Beneful Snackin Slices any size $1.00/1 x4/24/11
Purina One Dry Cat food any size-variety $2.00/1 x2/28/11
Purina One Dry Dog food any size-variety $2.00/1 x2/28/11
Purina Fit & Trim adult dog food 4.5 lb.+ $1.00/1 x2/26/11
Purina Mighty Dog 12 cans OR one 12-count variety pack $2.00/1 x3/21/11
Purina T Bonz or Purina Tiny T Bonz any size-variety $1.00/1 x4/24/11
Purina Tidy Cat any size-variety $1.00/1.50/1 x4/30/11
Purina Tidy Cat BREEZE litter system $5.00/1 x4/30/11
Purina Whisker Lickin's any size variety $1.00/2 x4/24/11
Rimmel $1.00/1 x3/31/11
Sarna anti-itch $3.00/1 x3/31/11
Stouffer's family or party size entree 28oz+ $1.00/1 x2/28/11
Tums any 24 ct+ $1.00/2 x3/31/11
SmartSource:
Activia Dessert 4-pack $1.00/1 x2/27/11
Air Wick Candle $1.00/1 x3/13/11
Air Wick FREE Warmer Unit when you buy Scented Oil Fragrance x3/13/11
Air Wick Scented Oil Twin Refill Pack $1.00/1 x3/13/11
Alka-Seltzer Antacid or Alka-Seltzer Plus Cold Product 10 ct+ $1.00/1 x3/31/11
Armour Meatballs $0.55/1 x3/31/11
Baskin Robbins 2 for $5 Small Below x3/5/11
Baskin Robbins BUY ANY CONE GET ONE FREE x3/5/11
Baskin Robbins $1.00/1 Frozen Beverage x3/5/11
Baskin Robbins $2.00/1 Cake x3/5/11
Bayer Am or Extra Strength Product 24 ct+ $1.00/1 x4/30/11
Bayer Low Dose or Bayer 325 mg Aspirin Product $1.00/1 x4/30/11
Bestlife Buttery Spread, Spray or Baking Sticks $1.00/1 x3/31/11
Betty Crocker Super Moist Cake Mix and Betty Crocker Frosting $0.75 x3/26/11
Blimpie Subs Catering Receive $10.00 off $50 Catering Order or $5 off a $25 Order x4/30/11
Blimpie Subs Free 6″ Sub with Purchase of a "6 sub or 12″ Sub x4/30/11
Blimpie Subs Free 6″ Sub with Purchase of a 6″ or 12″ Sub or 22 oz Drink x4/30/11
Blimpie Subs $1.00 off any Sub, Salad, or Wrap x4/30/11
Blue Diamond 1/2 gallon Almond Breeze $0.55/1 x4/30/11
Blue Diamond Shelf Stable Almond Breeze $0.55/1 x4/30/11
Boston Market $1.00 Create Your Meal x2/27/11
Boston Market $15 off $75 Catering x2/27/11
Boston Market $2.00 off $10.00 x2/27/11
Boston Market $4.00 off $20.00 x2/27/11
Budding 2 oz. $1.00/4 x4/30/11
Budding Deli Cuts $1.00/1 12 oz+ x4/30/11
Carvel Celebration Cake $3.00/1 x3/31/11
Chex Mix 4.5 oz+ $0.50/2 x3/26/11
Chex Mix, Golden Grahams or Milk n' Cereal Bars Treats $0.50/1 x3/26/11
Chock Full O'nuts $0.75/1 x3/15/11
Colgate 360 Sonic Power or Adult or Kids Manual Toothbrush $1.00/1 x2/19/11
Colgate 360 Sonic Power Toothbrush $1.00/1 x2/19/11
Colgate any Toothpaste 4.0 oz+ $1.00/1 x2/19/11
Dannon Light & Fit Yogurt $0.40/6 x3/30/11
Dole Gels $0.75/2 x3/31/11
Dole Parfaits $0.75/2 x3/31/11
Eggland's Best Cage Free Dozen or Organic Dozen Eggs $0.35/1 x6/30/11
Eggland's Best Eggs $0.35/1 x6/30/11
Eggland's Best Hard-Cooked & Peeled Eggs $0.35/1 x6/30/11
El Monterey Mexican Snacks, Taquitos, Tamales, Mini Chimis, or Quesadillas $1.00/1 x4/30/11
Fiber One Chewy Bars 100 Calorie $0.40/1 x3/26/11
Fiber one Chewy bars $0.40/1 x3/26/11
Frigo Cheese Heads String Cheese $1.00/1 x3/31/11
Furmano's Tomatoes $1.00/3 x3/31/11
General Mills Cereals Chex, Fiber One, Honey Nut Cheerios, Oatmeal Crisp, Raisin Nut Bran, Total or Wheaties $1.00/2 x3/12/11
Harbor Freight Coupons
Irish Spring Body Washes or Multi-Bar packs $1.00/2 x2/19/11
Johnsonville Deli Bites $0.50/1 x2/28/11
Krusteaz Pancake Mix $0.50/1 x4/30/11
Ky Brand Couples Lubricant, Intense Kissable Sensations & Intrigue Product $4.00/1 x4/30/11
KY Brand Product $2.00/1 x4/30/11
Lloyd's barbeque Product $1.00/1 x3/28/11
Marzetti Salad Dressing $0.75 x4/30/11
Marzetti Veggie Dip $0.60/1 x4/30/11
Mean Green Product $0.50/1 x3/13/11
Mean Green Trigger or 1 Gallon $1.00/2 x2/6/11
MT. Olive Pickles, peppers or relishes $0.50/1 x4/2/11
Nature Made Cholestoff $2.00 x2/28/11
Nature Made CoQ10 $5.00 x2/28/11
Nature Made Fish Oil $2.00 x2/28/11
Nature Made Vitamin D $1.00 x2/28/11
Nature Made Vitamins $1.00 x2/28/11
Palmolive Antibacterial Dish Liquid $1.00 20 oz+ x2/19/11
Palmolive Ultra Dish Liquid 20 oz+ $1.00/2 x2/19/11
Pillsbury Crescent Dinner Rolls $0.40/1 when You buy Italian Meal Bread x4/23/11
Pillsbury Crescent Rolls $0.40/2 x4/23/11
Pillsbury Savorings $1.00/2 x4/23/11
Reynolds Slow Cooker Liners $1.00/1 x5/31/11
Reynolds Wrap Foil $1.00/1 x2/28/11
Sargento Shredded Cheese Products $1.00/2 x3/5/11
Schick Hydro Razor $2.00/1 x3/13/11
Schick Hydro Shave Gel $0.75/1 x3/13/11
Seapak Popcorn Fish $1.00/1 x3/31/11
Snapple 6-pack $1.00/1 x3/14/11
Snickers Brand or Carvel Cake $2.00/1 x2/28/11
Soft-soap Brand Body Wash $1.00 12. oz+ x2/19/11
Soft-soap Liquid Hand Soaps $1.00/2 8 oz+x2/19/11
Speed Stick Deodorant or Lady Speed Stick $1.00/2 x2/19/11
Tabasco Brand $0.75/1 x3/15/11
Texas Toast Croutons $0.55/1 x4/30/11
Tostitos Chips 9 oz.+ $0.55 x2/28/11
Tostitos Salsa 15 oz+ $0.55 x2/28/11
Totino's Pizza Rolls Snacks $0.40/2 x4/23/11
Totino's Pizza $0.75/2 x4/23/11
Tyson Bagged Breaded Chicken Strips $1.00/1 x4/30/11
Yoplait Go-Gurt, or Trix Multipack Yogurt $0.75/2 x3/26/11
Yoplait Kids Cup Yogurt $0.50/1 x3/26/11
P&G Insert:
Aussie/Herbal Essences $1.00/2 Herbal Essences or Aussie Products (excludes trial size) x2/28/2011
Bounce $0.25/1 Bounce Dryer Sheets x2/28/2011
Bounce $0.50/1 Bounce Dryer Bar x2/28/2011
Bounce $0.75/1 Bounce Dryer Sheets x2/28/2011
Bounce $1.00/1 Bounce Dryer Bar x2/28/2011
Bounty $0.25/1 Bounty Towels or Napkins x2/28/2011
Charmin $0.25/1 Charmin x2/28/2011
Clearblue $1.00/1 Clearblue Pregnancy Test x2/28/2011
Clearblue $3.00/1 Clearblue Ovulation Kit x2/28/2011
CoverGirl $1.00/1 CoverGirl product x2/28/2011
Crest Paste $0.75/1 Crest toothpaste 4.0oz or more OR liquid gel x2/28/2011
Crest Rinse $1.00/1 Crest Pro-Health Rinse 440mL, 458mL, 473mL, OR 500mL x2/28/2011
Crest Rinse $2.00/1 Crest Mouthwash 946mL or larger x2/28/2011
Crest Whitestrips $10.00/1 Crest 3D White 2 Hour Express or Professional Effects Whitestrips x2/28/2011
Downy $0.50/1 Downy Liquid Fabric Softner or Dryer Sheets x2/28/2011
Fusion ProGlide $2.00/1 4ct or larger ProGlide Cartridgex2/28/2011
Fusion ProGlide $4.00/1 Manual or Power Fusion ProGlide Razor x2/28/2011
Gillette $2.00/1 Gillette Bodywash (excluding trial size)x2/28/2011
Gillette up to $4.99 Buy any ONE Gillette Deodorant, Get ONE Gillette Deodorant FREE (excluding trial size) x2/28/2011
Glide & Oral-B Floss $0.75/1 Oral-B Satin, Glide Floss 25m or more or any ONE Glide Floss Picks 30 count or higher x2/28/2011
Head & Shoulders $1.00/1 Head & Shoulders Shampoo or Conditioner (excludes trial size) x2/28/2011
Metamucil $2.00/1 Metamucil product x2/28/2011
Natural Instincts $2.00/1 Natural Instincts Hair Colorx2/28/2011
Olay Body up to $3.00 Buy any ONE Olay Bar OR Body Wash, Get any ONE Secret Base deodorant FREE x2/28/2011
Olay Body up to $6.00 Buy any ONE Olay Body Wash, Get any ONE Olay Complete Facial Moisturizer FREE (up to $6.00) x2/28/2011
Old Spice $1.00/2 Old Spice products (1.7oz or larger) x2/28/2011
Old Spice up to $3.25 Buy any ONE Old Spice Fresh Collection product, Get any ONE Old Spice APDO FREE (of equal or lesser value) x2/28/2011
Oral Care Kids $0.75/1 Crest Pro-Health For Me Floss x2/28/2011
Oral Care Kids $1.00/1 Crest Pro-Health For Me Toothpaste x2/28/2011
Oral Care Kids $1.00/1 Oral-B Pro-Health For Me CrossAction OR Pulsar Manual Brush x2/28/2011
Oral-B Manual Brush $0.75/1 Oral-B Pulsar, CrossAction, Advantage OR any TWO Indicator OR Cavity Defense x2/28/2011
Oral-B Power Brush up to $29.99 Buy any ONE Vitality Rechargeable Toothbrush, Get any ONE Vitality Rechargeable Toothbrush FREE x2/28/2011
Pampers $1.50/1 Pampers Easy Ups Trainers OR UnderJams Night Wear x2/28/2011
Pampers $2.00 When you buy any ONE Pampers Diapers or Pants AND ONE Pampers Wipes 60ct+ x2/28/2011
Pampers $3.00 When you buy any ONE Pampers Diapers or Pants AND ONE Pampers Wipes 60ct+ x2/28/2011
Pantene $1.00/1 Pantene Hairspray, Styler, OR Treatment x2/28/2011
Pantene $1.00/2 Pantene products (excludes trial size) x2/28/2011
Pepto Bismol $0.50/1 Pepto product x2/28/2011
Prilosec $3.00/1 Prilosec x2/28/2011
Prilosec $8.00/2 Prilosec 42 ct. x2/28/2011
Pringles $0.50/1 Pringles Snack Stacks or Stix x2/28/2011
Pringles $1.00/2 Pringles 180g or Larger x2/28/2011
Pringles $1.00/2 Pringles Fat Free 165g or larger x2/28/2011
Swiffer $0.50/1 Swiffer Refill or Swiffer Dust & Shine x2/28/2011
Swiffer up to $4.49 Buy any ONE Swiffer Duster Starter Kit, Get any ONE Swiffer Duster Refill FREE (up to $4.99) x2/28/2011
Tide $0.35/1 Tide Detergent x2/28/2011
Tide Stain Release $1.00/1 Tide Stain Release x2/28/2011
Tide Stain Release $3.00/1 Tide Stain Release 26-50 oz powder, 15-34 ct duo pac or 36-68 oz liquid x2/28/2011
Vicks $1.00/1 Vicks Product x2/28/2011
Vicks $1.50/1 NyQuil Product x2/28/2011