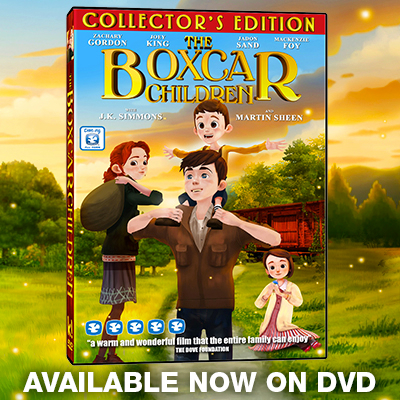 Emma has started reading The Boxcar Children series of books. If you're not familiar with The Boxcar Children, here's the scoop.
Four orphaned and homeless siblings happen upon an abandoned boxcar, which with a little creativity and hard work, they gradually furnish with all the comforts of home. Fearful that they will be sent to live with the reputedly cruel grandfather they have never met, the children keep their new home a secret – until a serious illness forces them to reveal themselves in order to save young Violet.
I was recently asked if we'd like to preview the new DVD The Boxcar Children, and I was interested to see what Emma would think. I decided to interview her after she watched the video.
Me: Did you like the movie?
Emma: Yes.
Me: What was the best part of the movie?
Emma: It was when they saw their grandfather's house.
Me: Why did you like that part?
Emma: Because his house was really pretty.
Me: How did the book & movie compare?
Emma: They went together a lot. The baker acted a little bit different in the movie.
Me: What's your opinion of the kids?
Emma: They do really great on their own. Jessie cooks really well. Since he's the oldest, Henry takes care of the younger kids very well.
Me: What surprised you most about the story?
Emma: It surprised me that they found a dog. It sounded like there was a bear in the bushes, and it really was a dog.
Me: What lesson can kids learn from The Boxcar Children?
Emma: To give people a second chance when you hear something bad about them.
Me: Would you recommend this movie to other kids?
Emma: Yes!
The Boxcar Children is a sweet story that can be enjoyed by the whole family.
The Giveaway
One Simple Pen reader will win a copy of The Boxcar Children DVD. To enter, simply leave a comment on this post. If you'd like to tell us about your own experience with The Boxcar Children, we'd love to hear it! (But that's not required.)
Entries will remain open until Friday, August 22, 2014 at 9 p.m. EST. One winner will be randomly chosen. The winner will be emailed and will have 48 hours to respond. If there is no response, a new winner will be chosen. U.S. addresses only please. Only one entrant per mailing address, per giveaway. If you have won the same prize on another blog, you are not eligible to win it again. Winner is subject to eligibility verification.
Disclosure: I received a copy of this DVD in exchange for hosting this giveaway. All opinions are – as always – honest and my own.