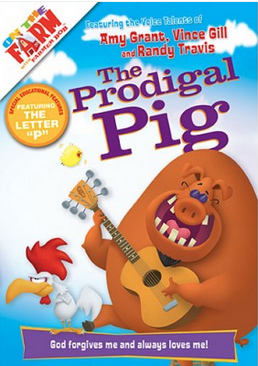 While you're probably familiar with the story of The Prodigal Son, I'll bet you may not have heard of The Prodigal Pig. 😉 The Prodigal Pig shares the story of Porkchop, a pig with dreams of making it big in the music business. But he doesn't count the cost. Porkchop gets 10 years of allowance money from Farmer Bob and chases his dreams to the big city.
When things don't turn out the way Porkchop plans, Farmer Bob welcomes him home with open arms. The animals all learn the value of forgiveness.
This is a fun way for kids to learn about forgiveness and the story of The Prodigal Son. They'll also giggle with the peeks behind-the-scenes and bloopers. Emma definitely enjoyed a giggle!
The Giveaway
One Simple Pen reader will win a copy of The Prodigal Pig DVD. To enter, just leave a comment on this post.
Entries will remain open until Friday, August 30 at 9 p.m. EST. One winner will be randomly chosen (US addresses only please). The winner will be emailed and will have 48 hours to respond. If there is no response, a new winner will be chosen.