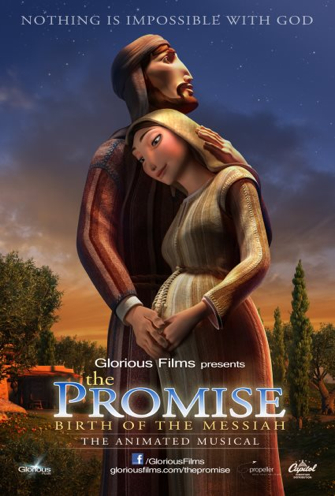 One of our favorite things to do this time of year is to read about, watch, sing about, and retell the story of Jesus' birth. Emma does this when she plays with her Little People Nativity set. We do this when we read our Christmas books together. We have some great Christmas movies and CDs that we enjoy. But this year we have a new movie that combines traditional movie storytelling with music.
The Promise: Birth of the Messiah is a musical that was crafted from Jesus' birth narrative from the Gospel of Luke. The animated movie uses optical motion technology to blend traditional animation with the performance talents of ballet dancers and dramatic stage actors. The result is amazing. Here… Take a peek….
When I showed the trailer to my husband, he was absolutely amazed. He said it reminded him of some of the animation that Lucasfilms has done. We just watched the whole movie together last night, and all three of us liked it. I wasn't sure how Emma (age 8) would do with a long musical, but she was captivated. My husband (who's not usually a fan of musicals) even commented on how well done the movie was. I just loved how they included Zechariah & Elizabeth as well as Simeon as they told the full story of Jesus' birth.
If you'd like to learn more about the movie, be sure to stop by the Glorious Films website, or connect with them on Facebook or Twitter. You can also get short samples of the songs from the movie here.
The Giveaway
One Simple Pen reader will win a copy of The Promise: Birth of the Messiah to enjoy this Christmas. To enter, simply leave a comment on this post.
Entries will remain open until Monday, December 9, 2013 at 9 p.m. EST. One winner will be randomly chosen. The winner will be emailed and will have 48 hours to respond. If there is no response, a new winner will be chosen. U.S. addresses only please.
Disclosure: I received a copy of The Promise DVD in exchange for hosting this giveaway. All opinions are – as always – honest and my own.