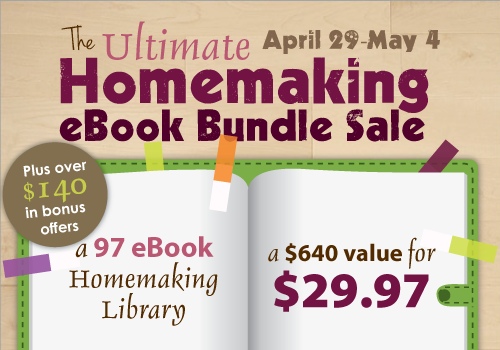 I've been keeping a secret from you.
I've known that this amazing ebook sale was coming. I've been drooling over the titles (and the price!). Some of these are books that I've been thinking about buying individually. Now they're here in one big bundle of homemaking goodness.
And now I'm sharing it with you!
This library of homemaking helps include topics such as mothering, organization and cleaning, recipes and kitchen helps, home education, spiritual growth for both moms and kids, home décor and DIY, pregnancy and baby care, frugal living, health and fitness, and even work-from-home and financial tools.
Plus if you buy the bundle, you get access to $140 in bonus offers, giving you an affordable opportunity to get products you'll use and love for only the cost of shipping, or in some cases, entirely for free.

Want a peek at some of what's included in the bundle?


Ninety-seven ebooks may sound a bit too overwhelming. But don't pass it up just because it sounds hard to organize. Here's what I'm going to do with those 97 ebooks.
I have a folder on my desktop called Ebooks. (Creative, eh?)

Inside that folder, I have a homemaking folder.
Inside the homemaking folder, I'm making folders for the categories in this sale (beauty, budgeting, ecourses, education, health & fitness, holidays & special events, in the kitchen, marriage & romance, motherhood, spiritual growth, working from home & blogging, homemaking).
You'll notice that I didn't include the pregnancy & baby care category in my list. Since my baby is already 8, I'm going to be gifting those titles to a friend. (Yes, you can gift these books. You just can't keep a copy and share a copy. That would call for buying 2 copies.)
The fine print:
Bonus Offers
Each bonus offer can be redeemed once only per eBook Bundle purchase.
For each bonus offer, transaction numbers or proof of purchase may be required at the time of redemption.
All bonus offers are free gifts from the bonus sponsors, are their sole responsibility to provide, and are subject to availability.
All bonus offers expire at midnight on May 19th, 2013 (2 weeks from the last day of this sale).
General
It is your responsibility to download and back-up your purchase within the 1-month download time-frame. With proof of purchase, we can renew download links up until August 1st, 2013. After this date we will no longer have access to the books and will not be able to provide any new links to download.
Due to the nature of this sale, there will be no refunds available. However, we would invite you to read our Frequently Asked Questions page to learn more about the file types, the download process, how the bonus offers work, etc.
Particularly for those wanting to read these ebooks on their mobile devices (iPhones or iPads, Android, Kindle, etc.) you will want to learn more about the file types, how to download them correctly, and how to transfer them to your device.

This post includes affiliate links, and I make a portion of the sale of each ebook bundle. Thanks for your support of this site!