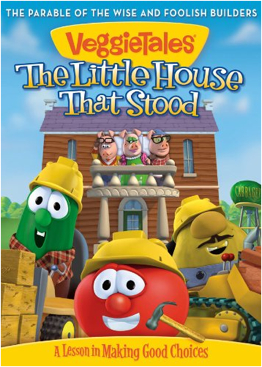 Want to teach your kids about the value of doing things God's way? The newest Veggie Tales DVD The Little House That Stood is a lesson in following God's blueprints.
When The Three Pigs roll into town looking to build some new houses, they meet one builder with a plan and two without a clue!  Larry builds with hay, Mr. Lunt builds with bricks, but only Bob builds his houses on a firm foundation – following the wise plans from the "Master Builder's Handbook!" Each pig has very particular ideas about what they want for their houses, but will their choices be good ones when the rains come tumblin' down?
The DVD also includes a VeggieTales short The Good Egg of Gooseville. Emma has been trying to get me to find this one since it was advertised on another DVD. She'll be super-excited to open this on Easter morning. And guess who will be watching The Good Egg of Gooseville while we get ready for church! 😉
The Giveaway
One Simple Pen reader will win a copy of the new The Little House That Stood DVD from VeggieTales. To enter, leave a comment telling us your all-time favorite VeggieTales character.
Entries will remain open until Monday, March 11 at 9 p.m. EST. One winner will be randomly chosen. The winner will be emailed and will have 48 hours to respond. If there is no response, a new winner will be chosen.