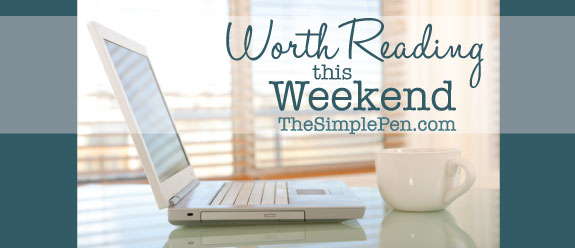 Here are a few of my favorite posts from around the web this week.
Yes, Do That :: If you've ever wondered what this whole Lent thing is all about or if you just need a perspective that's not legalistic, you must read this.
Priceless :: If you have teen/young adult girls, this is SO important for them to hear.
What You Need to Know About Her :: "We see snippets of life online or in passing and piece them together into a quilt full of holes, scraps of reality that we assume present the entire picture." Oh how true. Here's what we really need to know about those people we envy from afar.
25 Ways to Communicate Respect :: Here are some very practical ways to communicate respect for your husband, many without saying a word.
I Think We May Be Missing Something Very Important :: "Kids don't need more stars and stickers. They need more hard work. Kids don't need more activities. They need more unstructured time. Kids don't need more stuff. They need more opportunities to give their stuff away. Kids don't need more store-bought or manufactured fun. They need freedom to create their own." Kristen shares some great examples of how her kids are working hard and serving others, a reward all its own.