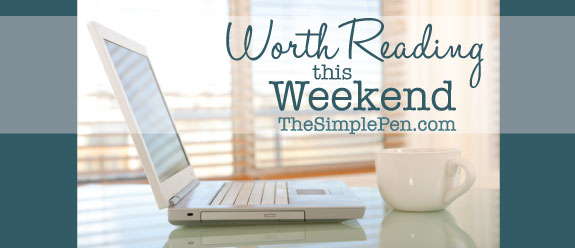 Here are a few of my favorite posts from around the web this week.
Ruins :: "Old ruins carry a hint of original glory… I see something of myself in ruins." Need some encouragement about who we are and who we will on day be? This one's for you.
Why People Who Sleep Longer Achieve More :: I'm slowly learning that one hour of sacrificed sleep does not equal one hour of productivity. There's some great information here about the importance of sleep.
Nine Secrets Your Pastor's Wife Wishes You Knew :: We all need to keep these in mind as we interact with these precious ladies.
Are You Abiding in the Harvest? :: Carey and Britta have teamed up to offer an 8-week Summer of Joy for women. They have some amazing free resources and tons of encouragement. Check it out!
33 Activities for Kids That Cost Under $10 :: There's nothing like summer fun that's also frugal! These look like awesome ideas.
Why Some People Don't Like Your Dream :: "Big dreams generate big resistance." If you have a dream, you need to read this.