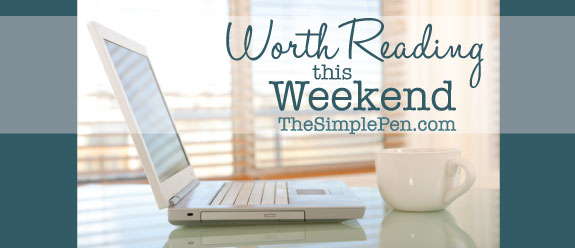 Here are a few of my favorite posts from around the web this week.
Letting Go of Who You Were :: I'm  mom who quit the day job to work from home and homeschool. But there are SO many things that I used to be able to find time to do that had to get laid aside when we made that decision. Of course I wouldn't go back (most days 😉 ). I love that Lisa has put into words what so many of us have faced.
Lifting the Weapon of Encouragement :: Have you ever considered correction to be encouragement? Mark's article changed my perspective on that a bit. I appreciated his call to be encouraged AND be encouragers.
When What Feels Like a Failure Leads to a Dream Come True :: If failure or personal choices have lead to the death of your dream, take heart! "The reality is God's plans are never ruined because of our actions. They might be delayed, diverted, shifted to a new path, but when God calls us to do something, He will find a way to bring us to it." Let Crystal encourage you with this post.
Why We're Teaching Our Kids to Ask for Forgiveness :: I've never been one for quietly mumbled apologies, so this post rings true for me. I love Emily's idea of teaching kids to humbly ask for forgiveness.