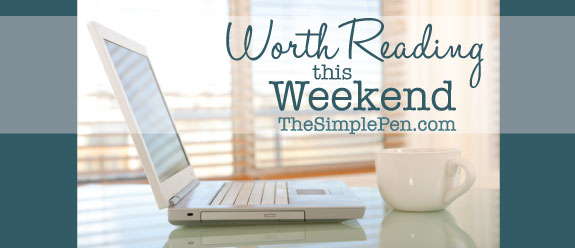 Here are a few of my favorite posts from around the web this week.
How 936 Pennies Will Forever Change How You Parent :: I'm scared to even try this now that Emma is almost 10. But maybe it's even more important now.
Remember the Dragon :: This is something to keep in mind as we see all the pretty Christmas cards and sweet creche scenes. I never thought of it as a re-writing of history.
Giving Your Child the Gift of Safety During the Holidays :: I'm sure that every parent has struggled with their kids not wanting to hug Great Aunt Sally or second-cousin Bill. I appreciate Mandy's wise words on this topic.
God Feels Tender Towards Me? :: Have you mistaken tenderness for weakness? "Isn't tenderness best expressed by one who has great strength, and understands that strength is best used for the protection, nurture and growth of those he loves?"
A Modern Day Parable :: Is your head up? Are you headed toward the goal?
The Day I Stopped Saying 'Hurry Up' :: I'm not a 'hurry up' person all the time, but this one still made me stop and think.