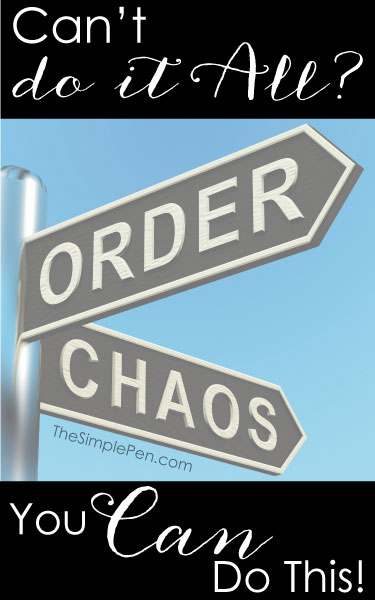 Do you have a space in your house that has become the catch-all for everything that doesn't have a home? We do, and it's our office.
When people come over and we need to stash a pile of books or a craft project that's in-process, it gets shoved in the office. We shut the door and choose to deal with it later.
The problem? We rarely go back and deal with it. The stashed goods create piles that continue to grow.
The other problem? I happen to be a bit very OCD about my workspace. I'm never productive when my space is filled with clutter. The office being cluttered has caused major problems with my productivity levels.
I'd love to lock myself in the office for two days straight and get the whole thing cleaned and organized and be done with it. Whew. That would be amazing. Unfortunately that just isn't possible right now. With homeschooling and design projects with deadlines, I need a different approach.
Eating the Elephant
One bite at a time, right? That's what I realized today. I could either come into the office and try to plow through my work day without fixing the chaos, OR I could make a small dent in the clutter and then get to work.
I chose to make a small dent by spending ten minutes putting away a layer of stuff. While it didn't make a huge difference in the overall feel of the office, it made a major difference in my ability to cope with the clutter. I know that the burden is slightly lighter.
But It's Still a Mess
Yes… Yes, it is. But I'm motivated now. I know that I can spend ten minutes and make a difference. And if I do that a couple of times each day, I'll have spent a couple of hours this week. I'm guessing that a couple of hours of decluttering and organizing will make a big difference.
Do yo have a messy zone like my office? Want to join me in making a dent in the chaos?