Photo Credit: Josh Hallett
My Take on Princesses
Confession: I wasn't much of a princess fan before our Disney trip. I mean, I had seen the movies and hummed the songs. But we limited the amount of princess paraphenilia that Emma owned.
The reason for the limits? We didn't want her to believe that her happily ever after depended on finding a prince and being wisked away to a castle. Real life just doesn't always work like a Disney movie.
Then I saw this.
Oh! What I saw there was an emphasis on character. And it wasn't just me who noticed.
Did you hear Rapunzel in the video? "I promise. And when I promise something, I never EVER break that promise." Well, Emma heard it too.
When it was time for Emma to choose souvenirs to bring home, guess who she chose. Yep. Rapunzel. At the time, I couldn't figure out why. She's not usually a huge Rapunzel fan. She's more likely to go gaga over Cinderella or Ariel. When I asked her about the choice, she reminded me that Rapunzel always keeps her promises.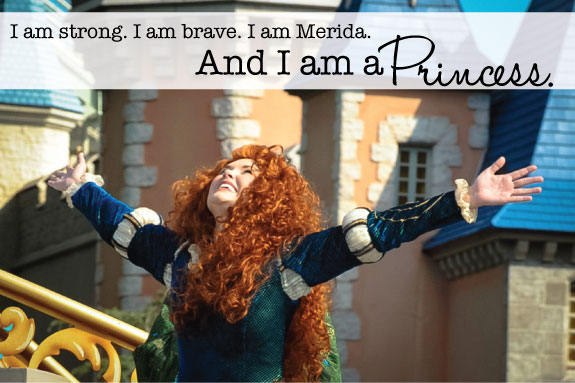 Photo Credit: Josh Hallett
Merida's Coronation
One of the highlights of our trip was attending Merida's official coronation as a princess. As I watched her swagger onto the stage (girl is spunky!) bow in hand, I knew I liked her.
They also introduced the other Disney princesses by telling a bit about each one. Snow White is compassionate, Cinderella kind and gracious. Ariel is as spirited as the sea. And the list goes on. Courageous, adventurous, honorable, heroic. confident. I love that they took the time to point out the character traits of each princess as she was introduced.
Of course I also loved all the little 'characters' who were running around with their Merida wigs on.

Visiting the Characters
During our trip, Emma's main goal was to meet as many Disney characters as she possibly could. Here's a recap of who she got to meet (complete with lots of princesses!).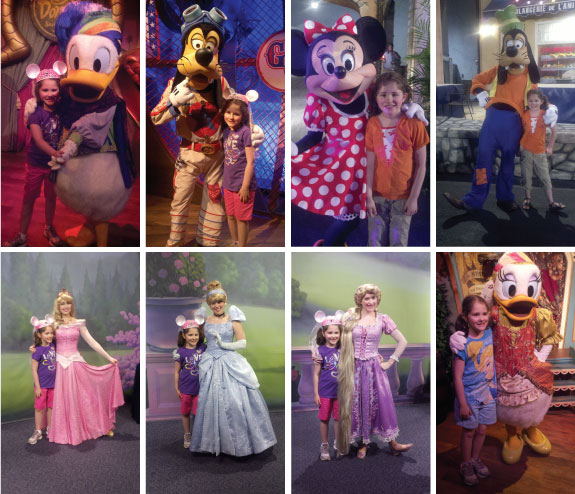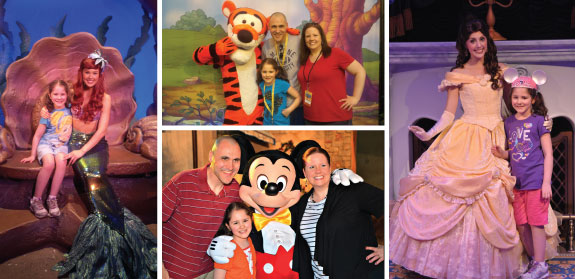 Her heart and her autograph book were both quite full. It was a trip fit for a princess.
I hope you'll stick with me as I have more to share about the Disney Social Media Moms Celebration, some of my favorite people, and some great new initiatives from Disney.
Disclosure: We received discounted Disney World tickets and accommodations as part of our conference fee for the Disney Social Media Moms Conference, but – as always – all opinions are 100% honest and all mine. #DisneySMMoms