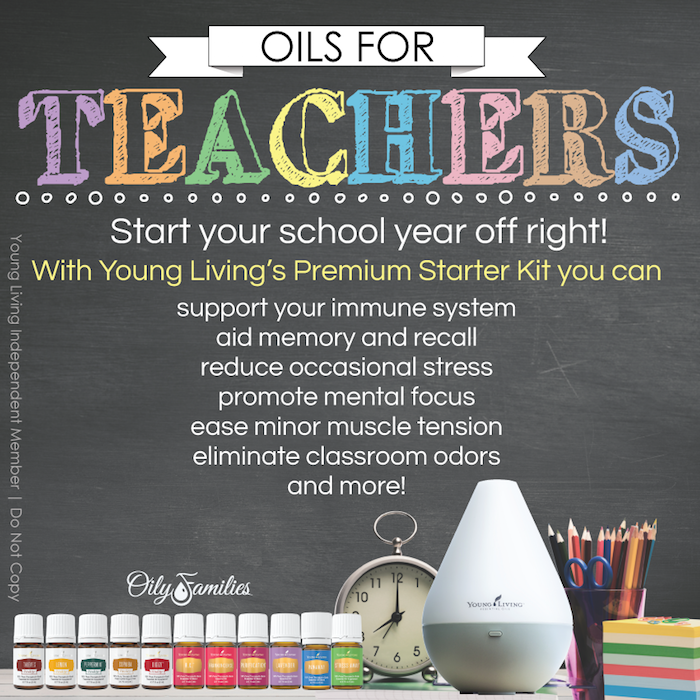 If you're new here, you may not know that I spent many years as a fifth grade teacher in public schools. I remember well the excitement, anticipation, and stress of the back-to-school season. Whether you work in a public or private school or teach your own kids as a homeschooler, you want this year to be the happiest, healthiest school year ever!
Are you a teacher?
If so, you can get a $20 Amazon gift card from me when you get started as a new Young Living member with a Premium Starter Kit this month. Plus, Young Living is throwing in a 15ml bottle of Cedarwood essential oil with every kit purchase. So you'll get TWELVE bottles of oil instead of the usual eleven. And as always, you'll get amazing support from me and our oils group! 🙂 I'll hold your hand as you get started and give you some fabulous reference materials to help you use your oils like a PRO from Day 1.
**** This offer is open to homeschool teachers too! ****
In your starter kit, you'll find oils to help with immune system support, memory and recall, occasional stress, mental focus, minor muscle tension, classroom odors, and more! Plus you'll get a diffuser to help get oils into the air where everyone can benefit from them.
Want to learn more? I'm co-hosting a Back-to-School essential oils class on Facebook on Thursday, August 18 at 8:00 p.m. Eastern. Join us to learn how these incredible oils can help you make this the best year ever! You can RSVP and find more information on the event page here: https://www.facebook.com/events/339255123072462/
If you'd like to get started and take advantage of this August-only special, you can contact me here or click here to get your starter kit ordered. Using Young Living essential oils is one of the best decisions my family has ever made. We're experiencing health and wellness and removing SO many toxic chemicals from our home. If you would like that for your own family, let's talk about how to make it happen!
*Must use sponsor and enroller number 1531545 when ordering to qualify. Bonus Amazon gift card will be delivered via email within 30 days of ordering.