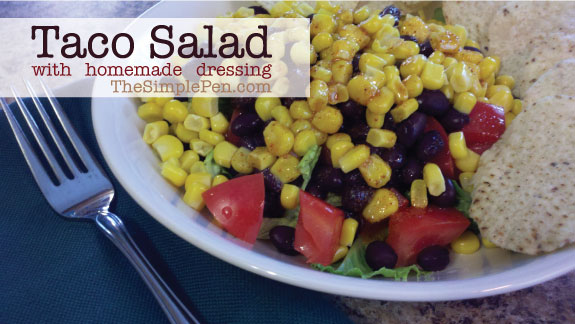 We love to experiment with different salad blends during the summer months. Plus when it's hot sometimes we don't want the heaviness of a meat-based meal. This Black Bean & Corn Taco Salad is quick to whip up, and it's perfect for a summertime dinner.
Black Bean & Corn Taco Salad
Serves 2
Ingredients:
Salad
Romaine lettuce, shredded (however much you prefer in your bowl)
2-4 Roma tomatoes, diced (depending on how many tomatoes you like)
2 green onions, chopped
15 oz. can black beans, rinsed and drained
1/2 of a 15 oz. can of corn (or use 1 c. frozen)
Tortilla chips
Dressing
2 Tbs. lime juice
2 Tbs. olive oil
1/2 tsp. cumin
1 tsp. chili powder
1/2 tsp. garlic powder
Directions:
Place lettuce, tomatoes, and green onions in two large bowls.
Whisk the dressing ingredients.
Toss the dressing with the beans and corn.
Top the salad with the bean-corn-dressing mixture.
Add tortilla chips.
Optional: Add avocados, salsa, or whatever else sounds good.