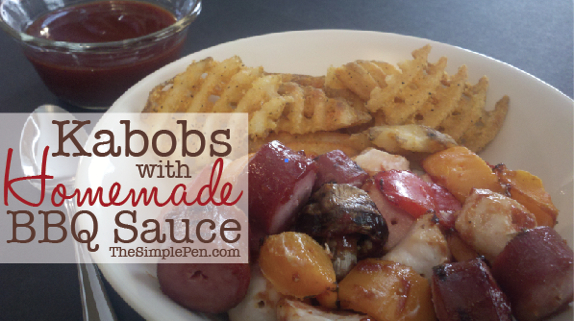 Some of my favorite summertime meals are the ones that are cooked by my hubby on the grill. I do a little bit of prep work and maybe make a side dish, but the bulk of the cooking is done by my husband outside of the kitchen. I get an easy cooking night, and the heat stays outside.
Last week we had some chicken, peppers, and mushrooms that needed used up. So we skewered chunks of all 3 along with some smoked sausage to get them ready for the grill. I didn't have a pre-made sauce that I thought would work with the flavors, so I decided to whip up one of my own.
Homemade Barbecue Sauce
Ingredients:
1 cup ketchup
2 Tbs. molassas
1 Tbs. white vinegar
1/2 tsp. dry mustard
1/2 tsp. garlic powder
2 Tbs. light brown sugar
1 Tbs. honey
Whisk all the ingredients together in a bowl.
This recipe made a lot more BBQ sauce than we needed, so we split it into two bowls. My husband used one bowl to baste the kabobs while they grilled. I put the rest into a freezer bag and popped it into the freezer. I can use it for another round of grilling or maybe even in the Crock Pot with some indoor BBQ Chicken.
Safety Note: If you're not going to use all of the BBQ sauce when you're grilling, split it into multiple bowls BEFORE you start grilling. If you baste meat with the sauce, you should not save any leftovers. It will be contaminated. (And no one wants 'meat germs', right? 😉 )
I'm sharing this post at:
:: Tip Me Tuesday hosted by Tip Junkie
:: Tasty Tuesday hosted by Balancing Beauty & Bedlam
:: Works for Me Wednesday hosted by We Are THAT Family
:: Strut Your Stuff Thursdays hosted by Somewhat Simple
:: I'm Lovin' It Fridays hosted by Tidy Mom
:: Ultimate Recipe Swap hosted by Life As Mom
:: Finer Things Friday hosted by The Finer Things in Life