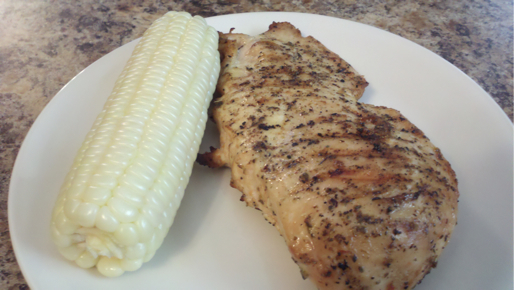 Cooler temperatures certainly do NOT mean that we're declaring the end of grilling season at our house. Instead, we're firing up the grill, filling it with chicken, and using it to make all sorts of dishes throughout the week.
My main obstacle to grilling is remembering to prep a marinade ahead of time. Imagine how excited I was to discover spice rubs as an alternative to marinades. Spice rubs are quick, easy, and cheap. I usually use ingredients I have on-hand, and I can prep the spice rub while my husband is prepping the grill. The chicken is ready to grill in about 10 minutes.
And did I mention the flavor? I had always wondered how restaurants got their chicken to be so flavorful and so juicy at the same time. I think that spice rubs may be the secret weapon for us. Our chicken has intense flavor, and the oil in the marinade seems to lock in the juice, leaving us with some amazing chicken.
When we grill, we like to get the grill as full as possible. If we're taking the time and energy to grill, we may as well make sure that our efforts pay off! This recipe makes enough spice rub for  3 pounds of chicken. We use the Italian Spice Rub Grilled Chicken as a main dish, in grilled chicken salads, in wraps, and over pasta.
Italian Spice Rub Grilled Chicken
3 lbs. chicken
2 T. olive oil
1 T. lemon juice
1/2 tsp. black pepper
1 t. salt
1/2 t. garlic powder
1 1/2 tsp. Italian seasoning
Mix the oil, lemon juice, and seasonings in a small bowl.
Dip your finger in the spice rub, and rub it on both sides of each piece of chicken.
Grill.
Simple. Easy. Quick. Cheap. And tastes great!
Find more recipes & tips here:
:: Mouthwatering Monday hosted by A Southern Fairytale
:: Tip Me Tuesday hosted by Tip Junkie
:: Tasty Tuesday hosted by Balancing Beauty & Bedlam
:: Tempt My Tummy Tuesday hosted by Blessed with Grace
:: Tuesdays at the Table hosted by All the Small Stuff
:: Look What I Made hosted by A Thrifty Mom
:: Works for Me Wednesday hosted by We Are THAT Family
:: Thrifty Thursday hosted by Coupon Teacher
:: Ultimate Recipe Swap hosted by Life as Mom
:: Recipe Swap hosted by The Grocery Cart Challenge
:: I'm Lovin' It Fridays at Tidy Mom