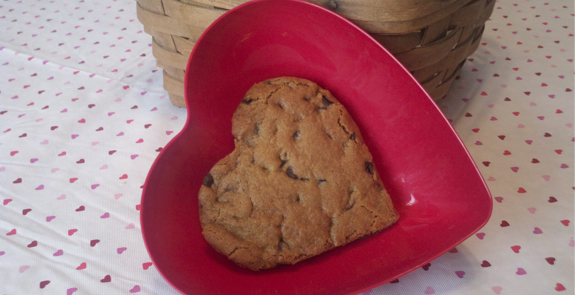 This past weekend we hosted our now-annual Valentine's Day dinner for my parents. Emma was soooo excited to have them over for a heart-shaped dinner. She spent a long time making decorations for the window in the dining area.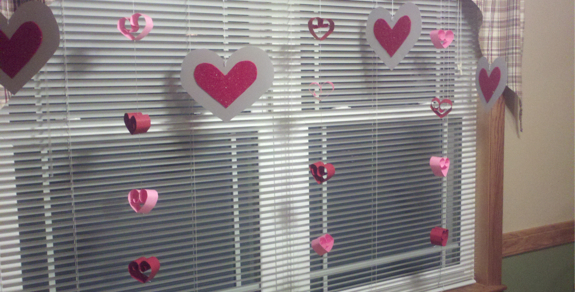 I was amazed at how intent she was on curling all the paper strips for the hearts!
We had a super-busy day on Sunday, starting with getting Emma to church in time for Sunday School and her choir practice. Then her choir sang at a local nursing home in the afternoon. We got home with just about enough time to pop dinner in the oven before my parents got there.
Great Value to the rescue! I was able to use some Great Value refrigerated products to help me get dinner done on time. While I make cookie dough and pizza crust from scratch most days, there was no way that was all getting done in time for our little party.
I started off by softening two rolls of chocolate chip cookie dough and pressing them into a cookie sheet lined with parchment paper. Once they baked and cooled a bit, we cut them using a heart-shaped cookie cutter. (What? You're wondering where the extra cookie went? The part that wasn't cut into hearts? Hmm… We know nothing about that!)

Then I unrolled the pizza crust and formed it into a heart shape. We opted for two different pizzas so that everyone could pick what they like best. The first was my own Taco Pizza recipe. My husband had browned the ground beef earlier in the day, so that one was a breeze to put together. We topped this pizza with sour cream, shredded lettuce, and diced tomatoes.
The second pizza was a Chicken Bacon Ranch Pizza. The sauce for that one took a little longer, but oh-my-goodness it was worth it. Knowing how busy the day was going to be, I cheated a little and bought pre-cooked bacon. We all agreed that this recipe was a keeper. My husband commented more than once about how much he liked the pizza crust. Sounds like taking a shortcut was a good thing, eh?
Now we all know that the best part of dinner is…… DESSERT! See what our little heart-shaped chocolate chip cookies turned into?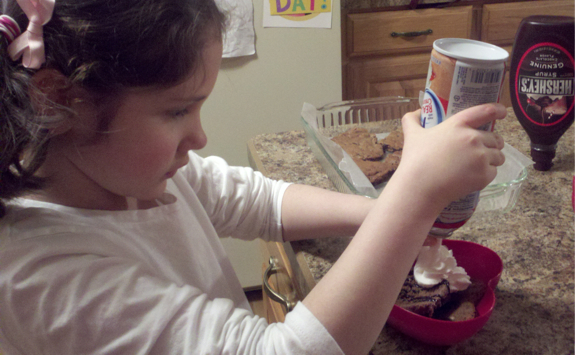 Oh those could definitely become a Valentine's Day tradition around here.
Hopefully that inspired a few heart-shaped ideas that you can use for your own Valentine's Day celebrations. I'd love to hear about other heart-shaped food ideas you've come up with!
Disclosure: This post is part of a campaign sponsored by Great Value and The Motherhood. You can find Great Value products at your local Walmart. All opinions are – as always – true and my own. #GreatValue