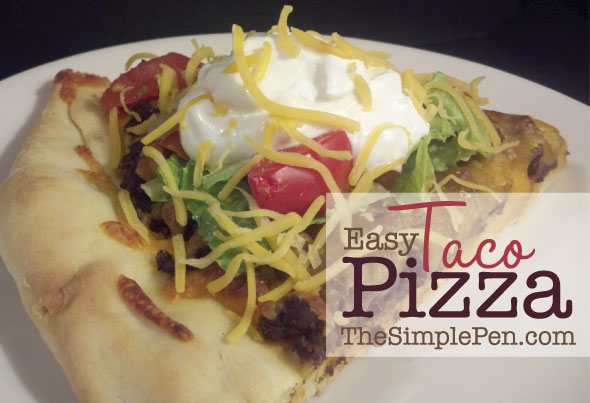 Pizza is a favorite at our house. In fact, it's on the menu weekly. Since I was tired of regular old pizza, I decided to spice things up a little bit. The result? This delicious but easy Taco Pizza.
The seasonings used on this pizza make the perfect blend for seasoning meat for regular tacos or taco salads too.
Easy Taco Pizza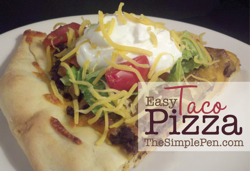 Ingredients:
Pizza Crust – Use pre-made or this easy recipe.
1 lb. ground beef
1/2 Tbl. chili powder
1/8 tsp. garlic powder
1/8 tsp. onion powder
1/8 tsp. oregano
1/4 tsp. paprika
1/2 tsp. cumin
1/2 tsp. salt
1/2 tsp. black pepper
1/2 cup water
8 oz. shredded cheddar cheese (or the cheese of your choice)
fresh tomatoes
lettuce
salsa
sour cream
Directions:
Brown the ground beef. Drain if necessary.
Combine spices (chili powder, garlic powder, onion powder, oregano, paprika, cumin, salt, black pepper). Sprinkle over hot ground beef.
Add 1/2 cup water. Stir until combined. Heat through.
Place seasoned beef over pizza crust.
Top with 8 oz. of shredded cheddar cheese or the cheese of your choice.
Bake at 450° for 8-10 minutes or until crust is baked and cheese begins to brown.
Slice and serve topped with salsa, diced tomatoes, lettuce, and sour cream.
This was a big hit at our house. Enjoy!
I'm sharing this post at:
:: Tip Me Tuesday hosted by Tip Junkie
:: Tasty Tuesday hosted by Balancing Beauty & Bedlam
:: Works for Me Wednesday hosted by We Are THAT Family
:: I'm Lovin' It Fridays hosted by Tidy Mom
:: Ultimate Recipe Swap hosted by Life As Mom
:: Finer Things Friday hosted by The Finer Things in Life
:: Chic & Crafty hosted by The Frugal Girls
:: Weekend Wrap Up Party hosted by Tater Tots & Jello