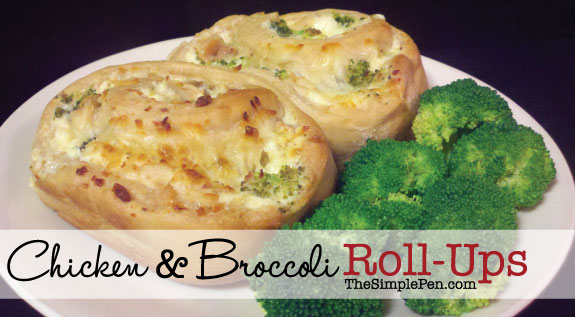 Don't you love it when a main dish can be the whole meal? One dish sporting grains, protein, veggies, calcium, and more? Bliss.
That's what you get with these Chicken & Broccoli Roll-Ups. Plus they're easy to make. That's an added bonus.
The inspiration came from making my friend Amy's cinnamon rolls. (If you haven't tried these yet, you really should. They're that melt-in-your-mouth-make-your-company-swoon-and-want-to-sneak-some-in-their-suitcases kind of delicious.) I wanted the same consistency without the sweetness of the cinnamon roll dough.
So here's the recipe along with a few tips I figured out along the way.
Chicken & Broccoli Roll-Ups
The Dough
Ingredients:
1/4 cup warm water
1 tsp. sugar (You need a little to feed the yeast.)
1 Tbl. yeast
4 Tbl. melted butter (1/2 stick)
1 egg
1 tsp. salt
3/4 cup milk
3 cups flour (I used 2 c. white whole wheat & 1 c. unbleached white.)
Directions:
Dissolve the yeast and sugar in the warm water. (I did this in my liquid measuring cup to make it easy.) Set this aside to activate.
Combine the melted butter, egg, and salt. Mix well.
Add the milk & mix well.
Mix in the yeast mixture.
Add the flour. If your dough is sticky, add a little bit more flour.
Move the dough to an oiled bowl. Cover with a towel, and let it rise until doubled. (I cheated on this one. I let it rise for 15-20 minutes because I started dinner late.)
Roll out your dough on a clean, dry, floured surface. (Mine ended up being about 16 inches x 12 inches.)
Filling
Ingredients:
2 cups cooked chicken, cubed (Think 1/2 to 1/3 of a bite-sized piece. You want these small.)
2 cups fresh broccoli, chopped (This was one broccoli crown for me.)
1/2 cup Parmesan cheese
8 oz. cream cheese, softened
4 Tbl. butter, softened (1/2 stick)
3 cups mozzarella cheese, shredded
Directions:
Beat softened cream cheese.
Add softened butter and beat again.
Mix in Parmesan cheese.
Once you have the dough & filling ready:
Spread the cheese mixture over the rolled-out dough. (Remember to go all the way to the edges. There's nothing worse than being served the end piece & finding little or no filling.)
Sprinkle the broccoli over the cheese.
Sprinkle the chicken over the broccoli.
Top with the mozzarella cheese.
Roll the dough up (cinnamon roll-style) using the longest side to roll. (You want to end up with a long roll, not a short one.)
Pinch the seam closed.
Cut the roll into 12 equal pieces.
Place the pieces into a greased 9×12 glass baking dish. (My pieces were too big for all of them to fit, so I had 4 that went into a smaller glass casserole dish. And YES you need to spray the baking dish. Ask me how I know.)
Place these in a warm location (I sat them on top of the preheating oven) and let them rise. (I did this for about 15 minutes.)
Bake uncovered at 350° for 20-25 minutes or until the rolls are lightly browned on top.
Let them sit for a few minutes before removing them from the pan.
You could make these with ham, turkey, or ground beef instead of the chicken. You could also substitute different cheese or veggies. Be creative!
I'm sharing this post at:
:: Tip Me Tuesday hosted by Tip Junkie
:: Tasty Tuesday hosted by Balancing Beauty & Bedlam
:: Works for Me Wednesday hosted by We Are THAT Family
:: I'm Lovin' It Fridays hosted by Tidy Mom
:: Ultimate Recipe Swap hosted by Life As Mom
:: Finer Things Friday hosted by The Finer Things in Life
:: Chic & Crafty hosted by The Frugal Girls
:: Weekend Wrap Up Party hosted by Tater Tots & Jello
:: Pinterest Power Party hosted by Living on Love &  Cents