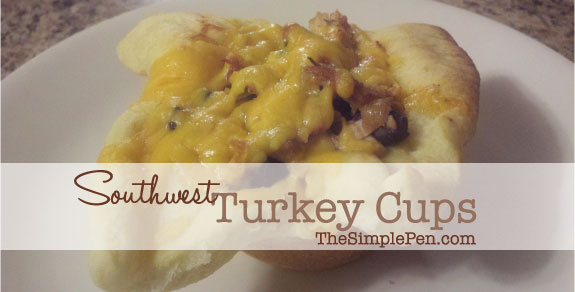 Thanksgiving is just around the corner. If you want to start planning for those turkey leftovers, this is the recipe for you. It will add a little kick to those leftovers.
Southwest Turkey Cups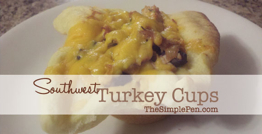 Ingredients:
2 tsp. Homemade taco seasoning
3 cups leftover turkey, cubed
3 8 oz. refrigerated crescent roll tubes
15 oz. can corn, drained
15 oz. can black beans, drained & rinsed
8 oz. shredded cheddar cheese (or a cheddar-jack blend)
1 cup salsa
Directions:
Open the crescent rolls and separate them into 12 rectangles (4 per tube). Each rectangle should be two triangle crescents connected together.
Spray a muffin pan with cooking spray.
Press each rectangle into a muffin cup, leaving the corners sticking up.
Mix turkey, corn, black beans, salsa, and 1 cup of cheese.
Scoop an equal amount of the turkey mixture into each cup. (I had leftover mix, so I sprayed a glass baking dish with cooking spray and baked the mix in that.)
Bake at 350° for 6 minutes.
Remove trays from the oven. Sprinkle the tops of the cups with the remaining cheese. (I also sprinkled cheese on the leftover mix in the glass bowl.)
Return to the oven for another 2-4 minutes or until cheese is melted and crescents are lightly browned.
Serve warm, topped with more salsa.
The leftover turkey mix would be an excellent baked potato topping.
I'm sharing this post at:
:: Tip Me Tuesday hosted by Tip Junkie
:: Tasty Tuesday hosted by Balancing Beauty & Bedlam
:: Works for Me Wednesday hosted by We Are THAT Family
:: I'm Lovin' It Fridays hosted by Tidy Mom
:: Ultimate Recipe Swap hosted by Life As Mom
:: Finer Things Friday hosted by The Finer Things in Life
:: Chic & Crafty hosted by The Frugal Girls
:: Weekend Wrap Up Party hosted by Tater Tots & Jello