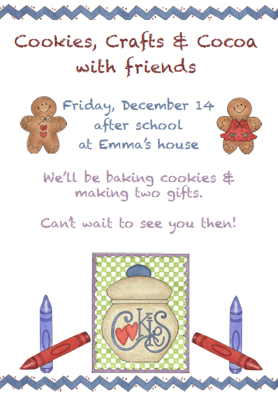 This Christmas we decided to do fewer activities and focus on things that are meaningful and fun. One of my goals was provide a time for Emma to have some friends over. This week we'll be hosting Emma's first (annual?) Cookies, Crafts & Cocoa with Friends party. She's invited two sweet little gals over to bake cookies and make a couple of crafts.
Emma's two guests will be coming straight from school, so I'll need to have a snack for them. I'm going to be using Great Value refrigerated cinnamon rolls from Walmart to make this Apple Cinnamon Pizza. I'll top it with this Warm Apple Topping instead of canned pie filling.
We only have a couple of hours, so we're going to make the most of it. Instead of making our cookies from scratch, we're going to get straight to the fun part. We'll be making these Peanut Butter Cup cookies but using refrigerated chocolate chip cookie dough for the cups. I stopped at Walmart last week and picked up some Great Value cookie dough. This is a shortcut that will save us a lot of time and allow us to get all of our projects done. The Great Value price is excellent, and that helps me keep the party within our budget.
We're also making these Triple Decker Cookies. Ours will have layers of Great Value chocolate chip cookie dough, Oreo cookies, and brownie batter. Yes, it just might be chocolate overload at our house on Friday. But we'll be sure to send LOTS of cookies home with our guests. 😉
We're providing two crafts for the girls to make, a gift for Mom and a gift for Dad. Both crafts needed to be quick so we're not stressed for time.
Emma made these wooden photo frames as gifts for our extended family a couple of years ago. The girls will be making something similar (with stars instead of hearts) for Dad. I found these pretty – yet super simple! – decorated pens for the girls to make for Mom.
It's a lot to cram into a couple of hours! That's for sure! But my mom volunteered to help, and we're going to have a ball! I'll be sure to snap some pictures so you can see their finished products.
Disclosure: This post is part of a campaign sponsored by Great Value and The Motherhood. You can find Great Value products at your local Walmart. All opinions are – as always – true and my own.