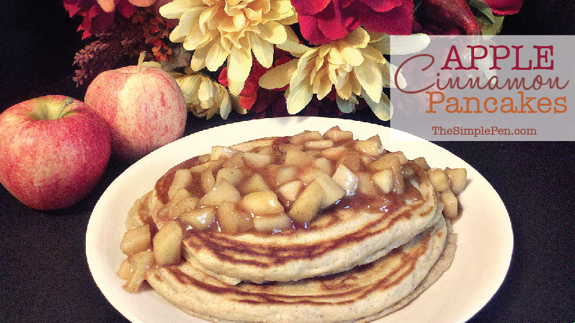 We love pancakes around here. We also love fall and the flavors that it brings. Combine the two and you end up with one delicious breakfast. I recommend mixing up the pancake batter and letting it sit while you make the apple topping. Then you can just keep the topping warm while you cook the pancakes. That seemed to work for us.
Apple Cinnamon Pancakes
Let's start with the pancakes…..
Cinnamon Pancakes
2 c. flour (I use white whole wheat.)
2 Tbs. sugar
2 Tbs. baking powder
1 tsp. salt
1 tsp. cinnamon
2 eggs
1 1/2 c. milk
1/4 c. oil + extra for the pan
Combine the dry ingredients (flour, sugar, baking powder, salt, cinnamon).
Whisk in the wet ingredients (eggs, milk, oil). Don't whisk too long or you'll flatten your pancakes. You could also use a spoon. I've just found that using a whisk makes the pancakes fluffier.
Warm your skillet over medium heat.
Brush a little bit of oil in the pan.
Pour 1/4 cup of batter (more or less depending on how large you want your pancakes) into the pan.
Let it cook until the bottom is lightly browned.
Carefully flip the pancake over and cook until both sides are browned and the center is cooked through.
Tip: We like to keep our pancakes warm while more are cooking. To do this, we stack the pancakes on a dinner plate and place a bowl over them to trap the heat.
Warm Apple Topping
6 apples (peeled, cored, and diced)
1/2 c. butter
2/3 c. maple syrup
1 tsp. ground cinnamon
1/2 tsp. ground ginger
1/4 tsp. nutmeg
2 Tbl. lemon juice
2 tsp. vanilla
1 tsp. cornstarch
2 T. cold water
Melt butter in medium saucepan over medium low heat.
Add agave, cinnamon, ginger, nutmeg, lemon juice, and vanilla. Stir to combine.
Add diced apples.
Cook over medium-low heat until the apples are tender.
In a small bowl, mix cornstarch with water.
Add cornstarch mixture to the apple mixture. Cook until the topping thickens a bit.
This topping (cooled) would be great on ice cream too.
If you want another yummy apple recipe, check out my Slow Cooker Vanilla Applesauce. This will make the house smell fabulously fall-ish, AND it tastes great!