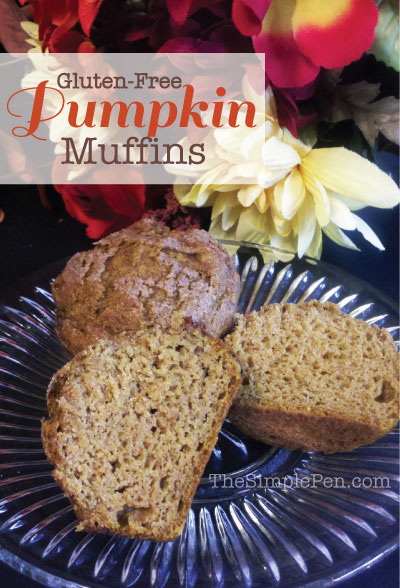 One of my favorite things about fall is baking with pumpkin. We've made pumpkin pancakes, pumpkin oatmeal, and now pumpkin muffins. My husband has been eating gluten-free, so I couldn't use my old faithful muffin recipe. I hunted for one that looked appealing, but I couldn't find anything. So I created my own!
My goal was a muffin that was moist and spicy without being too sweet. The last time I made them, I added the sugar and spice sprinkle on top. That made for a sweet crunchy top.
Ingredients:
1/2 cup brown rice flour
1/2 cup white rice flour
1/4 cup potato starch
1/4 cup tapioca starch
1 tsp. xanthan gum
2 tsp. baking powder
1 tsp. baking soda
1/2 tsp. salt
1 Tbl. pumpkin pie spice
1/2 cup brown sugar
1 cup pumpkin (not pumpkin pie filling)
1/4 cup light olive oil
2 eggs
1/2 cup almond milk (unsweetened)
1 tsp. pure vanilla extract
Sugar & Spice Topping Ingredients:
1 Tbl. sugar
1/4 tsp. pumpkin pie spice
Directions:
Preheat oven to 350°.
Combine the dry ingredients and mix well.
Add the pumpkin, oil, eggs, milk, and vanilla. Mix well.
Spray a 12-cup muffin pan with non-stick spray.
Fill the 12 muffin cups with the batter.
Sprinkle about 1/4 tsp. of the sugar & spice topping on each muffin.
Bake 18-20 minutes or until a toothpick inserted in a muffin comes out clean.
Cool before eating.
Store leftovers (if there are any!) in a loosely-covered bowl. The crunchy topping doesn't stay crunchy on the leftovers, but the flavor stays.
If you're looking for more fall recipes, try these:
Apple Cinnamon Baked Oatmeal
Apple Cinnamon Pancakes
Grandma's Pumpkin Bundt Cake
Cranberry Oatmeal Cookies
Slow Cooker Vanilla Applesauce
Crock Pot Chili
Country Bean Soup
Crock Pot Beef Vegetable Barley Soup
I'm sharing this post at:
:: Tasty Tuesday hosted by Balancing Beauty & Bedlam
:: Works for Me Wednesday hosted by We Are THAT Family
:: Chic & Crafty hosted by The Frugal Girls