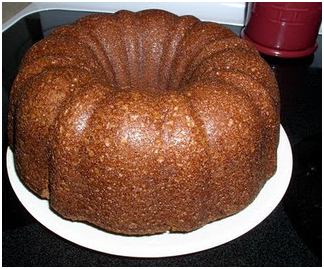 This cake is so good that you don't even need a glaze or anything. We'll sometimes have it with whipped cream or a scoop of French Vanilla ice cream when we have people over, but I could eat it plain all the time. It's really dense and heavy, and it's very simple to make. It can even be used as a breakfast bread.
Pumpkin Bundt Cake
15 oz. can pumpkin (or make your own)
4 eggs
1 c. light flavor olive oil
1/2 c. water
3-1/2 c. flour (I use white whole wheat.)
3 c. sugar
1 T. pumpkin pie spice
2 t. baking soda
1-1/2 t. salt
Combine pumpkin, eggs, oil, and water. Mix well.
Mix in the dry ingredients, and mix well.
Pour into a bundt pan that has been coated with cooking spray.
Bake 1 hour and 30 minutes at 350 degrees.
I'm sharing this post at:
:: Tasty Tuesday hosted by Balancing Beauty & Bedlam
:: Works for Me Wednesday hosted by We Are THAT Family
:: Chic & Crafty hosted by The Frugal Girls