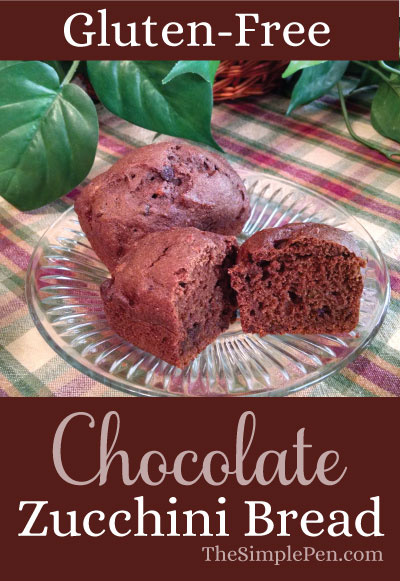 Earlier this week, Emma and I both felt like baking. A friend had brought us a zucchini from his garden, and Emma decided we should make our chocolate zucchini bread.
We only had one problem… Our recipe called for wheat flour. We wanted to make sure that this batch was gluten-free so Jason could eat it too. So we went to work changing the recipe. I mixed up the flours we needed, and Emma took over to do the rest.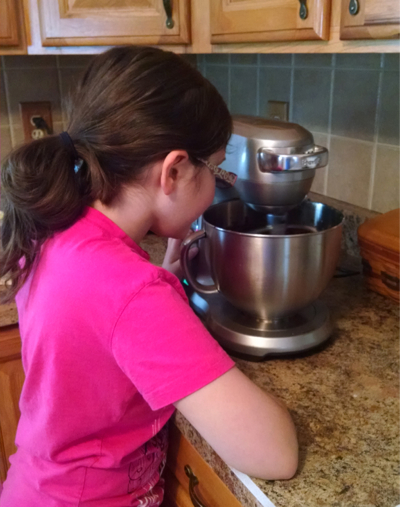 I love that she's becoming more independent in the kitchen, measuring, cracking eggs, mixing, scooping. While I love being the baker, I also don't mind being her clean-up committee. 🙂
Gluten-Free Chocolate Zucchini Bread
Ingredients:
3/4 cup sweet rice flour*
3/4 cup brown rice flour*
3/4 cup potato starch*
1/4 cup + 2 Tbl. white rice flour*
1/4 cup + 2 Tbl. tapioca flour*
1 1/2 tsp. xanthan gum*
1/2 cup cocoa
1 tsp. baking soda
1 tsp. salt
1/2 tsp. baking powder
2 cups sugar
3 eggs
1/2 cup lighter flavor olive oil
1/2 cup applesauce
2 cups shredded zucchini
1 cup mini chocolate chips
* If you aren't trying to make this recipe gluten-free, you can remove all starred ingredients and use 3 cups of white or whole wheat flour.
Directions:
Combine dry ingredients except sugar.
In a separate bowl, beat the sugar and eggs.
Add the oil and applesauce. Beat to combine. (This doesn't combine well.)
Mix in the shredded zucchini.
Stir in the mixture of dry ingredients.
Add the chocolate chips.
Bake at 350 degrees for the following times (depends your pan style):

55-60 minutes for 2 9×5 loaf pans
20 minutes for 24-30 muffins
35 minutes for 16 mini loaf pans

Cool 10 minutes in the pan (if you can keep people out of them for that long!). Then remove to a wire rack.
We were thrilled with the results of our experiment, and Emma was extra-proud of the fact that she did just about everything to make them.