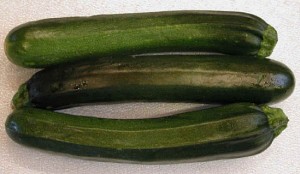 Here's a great recipe that will help you use up the zucchini that you might still have. I got the recipe from a friend, and I'd credit her source if I knew it! My uncle blessed us with two bags of zucchini. My husband was sure that two of them were actually watermelons in disguise! I shredded it all, packed it in 2 cup servings (that's what most zucchini recipes call for), and froze most of it. I baked a few batches of these and shared them. For someone who otherwise can't stand zucchini, I got my fill!
Chocolate Zucchini Bread
3 cups flour
1/2 cup cocoa
1 tsp. baking soda
1 tsp. salt
1/2 tsp. baking powder
2 cups sugar
3 eggs
1/2 cup lighter flavor olive oil
1/2 cup applesauce
2 cups shredded zucchini
1 cup mini chocolate chips
Combine dry ingredients except sugar.
In a separate bowl, beat sugar and eggs. Add oil and vanilla. Beat to combine. (This doesn't combine well.) Add zucchini.
Stir in flour mixture. Add chips.
Bake at 350 degrees… choose your pan style:

55-60 minutes for 2 9×5 loaf pans
20 minutes for 24-30 cupcakes
35 minutes for 16 mini loaf pans

Cool 10 minutes in pan. Then remove to a wire rack.