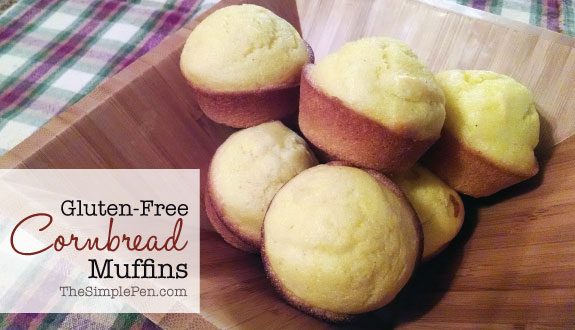 This recipe has been a long time in the making. My patient family and friends have taste tested more than their fair share of cornbread as I've tweaked the ingredients list. 🙂 I think we've finally found the right combination.
I'm not going to kid anyone and call this a healthy recipe. It's gluten-free and dairy-free, but the sugar content moves it from the healthy category into a bit of an indulgence. It's a delicious side for chili or soup, and it's a sweet treat with a little honey on top.
Gluten-Free Cornbread Muffins
Ingredients:
2 1/2 cups cornmeal
1 cup white rice flour
1/2 cup tapioca starch
1/2 cup potato starch
1 1/2 cups sugar
1 Tbl. baking powder
2 tsp. salt
2 tsp. xnthan gum
4 eggs
2 cups milk (I used plain almond milk.)
2/3 cup light olive oil
Directions:
Preheat your oven to 375°.
Spray two 12-cup muffin pans with non-stick cooking spray, or line them with muffin/cupcake liners.
Combine the dry ingredients.
Add the wet ingredients and stir until moistened.
Spoon batter into muffin cups, filling each about 2/3 full.
Bake 15-18 minutes or until tops are firm and sides are golden brown.
I'd love to tell you how long these keep and how to store them, but they seem to be gone already. I guess that's a vote for them being tasty! If I ever had any left, I'd store them in a loosely sealed container on the counter.