This post originally appeared on this site in 2011. With apple season upon us, I wanted to remind you of this easy and delicious way to use those apples.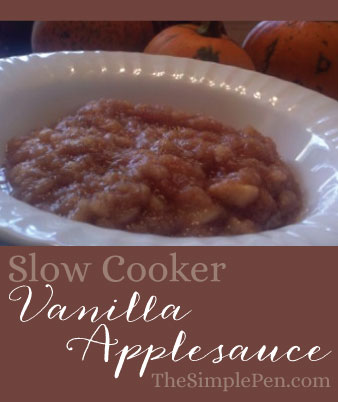 Homemade applesauce is definitely a fall favorite at our house, especially when it's flavored with a hint of vanilla. Tastes delicious and smells heavenly while it's cooking.
The best part of this recipe was my sweet little helper. She's just old enough for me to be comfortable giving her a butter knife to cut things, and these apples were perfect for butter knife cutting. I peeled and quartered the apples, and she cut them into chunks and placed them in the slow cooker.
We ended up with 14 cups of apples. When the slow cooker was full of apples we added the seasonings.
We added:
1/2 c. brown sugar (Use more if you want it sweeter.)
2 tsp. vanilla (pure, not imitation)
2 tsp. cinnamon
Then we cooked it on low for 3 hours. We prefer our applesauce a little chunky, so cook it another hour if you want it smoother. We ended up with an applesauce with just a hint of vanilla flavor.
Slow Cooker Vanilla Applesauce
14 c. cooking apples (peeled, cored, chunked)
1/2 c. packed brown sugar
2 tsp. vanilla (pure, not imitation)
2 tsp. cinnamon
Cook in a slow cooker on low for 3 hours (for chunky applesauce) or  4 hours (for smoother applesauce). Cool and refrigerate.
We've also made Raspberry Applesauce in our slow cooker. Delicious!