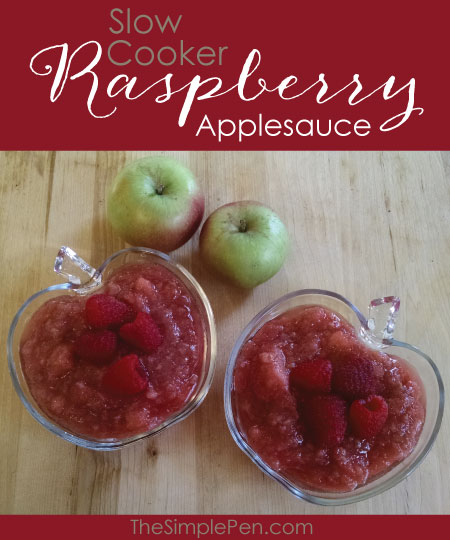 When my husband announced that the apples on my parents' tree were ready to be picked, I admit that I panicked just a little. Things have been incredibly busy around here (despite our attempts to maintain white space on our calendar). I wasn't sure when I would find time to process lots of apples. I ended up working on them while Emma worked on some of her independent school work. It was an ideal situation, because it gave her some space to work while I was still in the same area. We were able to chat a bit while we both accomplished our tasks. Win-win!
This year, instead of only making our Slow Cooker Vanilla Applesauce recipe, I mixed things up a little. As I was filling the slow cooker, I remembered how much Emma likes the berry-flavored applesauce pouches we buy at the store. Raspberries were on sale at the grocery store, so I had a few packs stashed in the fridge.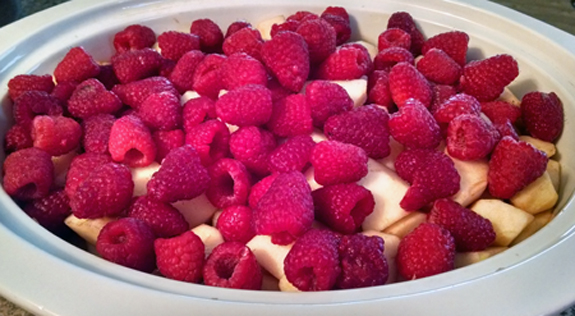 Rather than filling the slow cooker all the way with apples, I topped off the batch with raspberries. I added a little sugar and some vanilla and ended up with some pretty amazing applesauce.
Slow Cooker Raspberry Applesauce
Ingredients:
18 cups apples, peeled, cored, chopped (I left my apple chunks pretty large.)

3 6oz. containers raspberries (or other berries)
1/3 cup coconut sugar
2 tsp. pure vanilla
Directions:
Peel, core, and chop apples. 

Place in slow cooker.
Wash, rinse, and drain raspberries. Place in slow cooker.
Sprinkle with sugar.
Drizzle with vanilla.
Stir.
Cook on high for 3 hours, stirring each hour. Your cooking time may be more or less than mine, depending on your preferred applesauce consistency.
Cool completely and store covered in the refrigerator.
While we usually lovew warm vanilla applesauce, we preferred this applesauce chilled. I think chilling it allowed the flavors to blend a bit more.
Last night I found a couple of packs of blackberries that needed to be used, so I did a batch with 2 packs of blackberries and 2 packs of raspberries. It was really good too! So feel free to experiment with whatever berries you have on hand.
If you or your kids like store bought applesauce pouches, you can make your own using these reusable food pouches. Just make your own applesauce (even berry-flavored!), fill the pouches, and send them on their way.