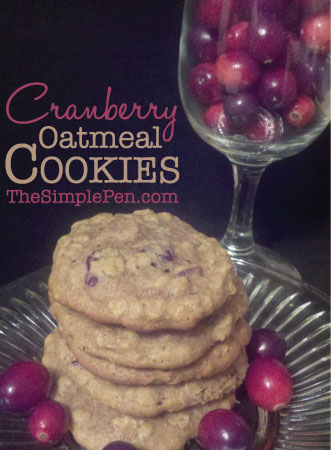 Is it just me, or does Fall make you want to break out the cranberries and bake up a storm? This recipe started out as my mom's soft oatmeal cookies (which are oh-so-yummy). Her recipe calls for raisins (which I usually swap out for chocolate chips). But I spied the bag of Craisins in the pantry. It was meant to be.
This recipe doubles well and freezes well (after baking). The cookies also taste great straight from the freezer. Not that I would know. Oh. Where did those cookie crumbs on my keyboard come from?
Cranberry Oatmeal Cookies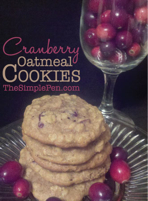 Ingredients:
2 cups flour – I used white whole wheat.
1 tsp. baking soda
1 tsp. salt
1 1/2 tsp. cinnamon
2 cups oats – I used old fashioned, but you can use quick cook too.
3/4 cup butter – I doubled the batch & used half butter and half coconut oil.
1/2 cup white sugar
3/4 cup brown sugar
2 eggs
1 1/2 tsp. vanilla
1/3 cup milk
1/2 cup Craisins
Directions:
Cream the butter/coconut oil and sugars.
Mix in the egg, vanilla, and milk.
Mix dry ingredients – except Craisins – in separate bowl.
Add dry ingredients to wet ingredients. Mix until combined.
Gently stir in Craisins.
Drop by tablespoons onto a sprayed or parchment-lined cookie sheet.
Bake at 350° for 8-10 minutes.
I'm sharing this post at:
:: Tip Me Tuesday hosted by Tip Junkie
:: Tasty Tuesday hosted by Balancing Beauty & Bedlam
:: Works for Me Wednesday hosted by We Are THAT Family
:: I'm Lovin' It Fridays hosted by Tidy Mom
:: Ultimate Recipe Swap hosted by Life As Mom
:: Finer Things Friday hosted by The Finer Things in Life
:: Chic & Crafty hosted by The Frugal Girls
:: Weekend Wrap Up Party hosted by Tater Tots & Jello