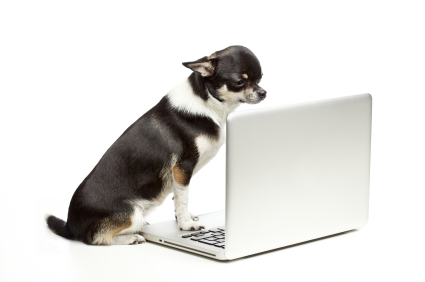 "Fear hangs out right next to whatever it is you're most called to do. That means the closer you get to your calling, the louder fear sounds. Keep going – fear is a chihuahua that sounds like a Doberman." ~ Holley Gerth, You're Made for a God-Sized Dream
Holley's God-Sized Dreams prompt made me giggle this time. She asked us to write a letter to the Chihuahua of Fear. Who could resist THAT?
Dear Chihuahua of Fear,
Yes, you. The one that keeps yipping in my ear, telling me over and over (in that annoying little voice of yours) that this is not possible. Oh, you may act like you're a doberman as you try to strike fear in my heart, but I know the truth. You're not all that.
Now that I've recognized you for what you really are, I've realized that I can easily punt you across the yard. Drop. Kick. Gone.
You know, I used to pay attention. As I took a step in the direction of my dreams, I stepped into your territory. When I heard your yipping, I figured I shouldn't go there. That was your space, and it was well-guarded.
Now I know that you're trying to keep me from the space that God has created for me. You don't want me there. So your yipping gets louder and more persistent.
But you're all yip and no power. You have no hold on me. I am friends with the One who overcame fear.
Yes, the God of angel armies is by my side. What do you have? Nothing.
So consider this good-bye. You head on back to your squeaky chew toy. I'll go about pursing my God-sized dream, yip-free.
Need help battling fear as you take a step into whatever dream God has for you? Holley's book You're Made for a God-Sized Dream is a must-read. She'll cheer you on and remind you in no uncertain terms that the fear you hear yipping is simply a chihuahua thinking it's a doberman.

Looking for some encouragement? Stop by Holley's God-Sized Dreams linkup and read more letters to the crazy little chihuahua of fear.