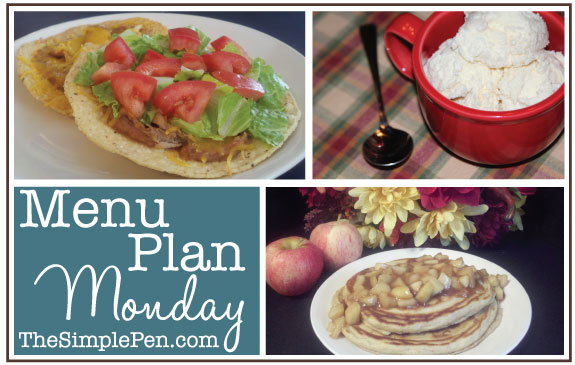 Is dinnertime crazy at your house? Is it a rush to get dinner in the oven, skillet, or wherever you're cooking it? No matter how calm the day is, things seem to go a little crazy when it's time to get dinner ready.
This week I'm focused on speeding up dinner prep. I can usually putter around the kitchen a bit while Emma's working on her morning schoolwork, so I'm hoping to use that time to do a little dinner prep. Here's what we're having and how I'm slowing down the 5:00 rush.
Oven-Baked Chicken Fajitas :: I'm making this quicker by slicing the peppers and chicken while we're doing lunch prep. I can have everything ready and pop it in the oven when it's time to cook. I might even add the tomatoes and spices so that it's truly oven-ready by mid-day. (No side dishes needed for this one. I like all-in-one meals like that.)
Baked Parmesan Garlic Chicken :: This recipe lends itself to early prep because of the simple marinade. I like that I HAVE to do that part early. The breading should take next-to-no time. (I'll serve this with a side of frozen veggies and some homemade bread made in the bread machine earlier in the day.)
Sausage Fried Rice :: I'll make the rice and chop the veggies and meat earlier in the day and then throw it all together just before dinnertime.
Aussie Chicken :: I can get the chicken sprinkled with seasoned salt and into the fridge early. The rest will have to be prepped closer to dinner. Since this will be our Valentine's Day dinner, I won't be stressing over spending a little kitchen time that day. (I'll serve with Crock Pot Baked Potatoes and a veggie.)
Loaded Baked Potatoes :: When I make Crock Pot Baked Potatoes as a side dish for the Aussie Chicken, I'm going to throw in enough extras to do loaded baked potatoes the next night. The potatoes will already be done (the biggest time consumer!). I'll also make extra bacon when I make the chicken, so we'll top our potatoes with broccoli, bacon, and cheese.
If you're looking for some general menu planning inspiration, stop by Menu Plan Monday hosted by I'm an Organizing Junkie.