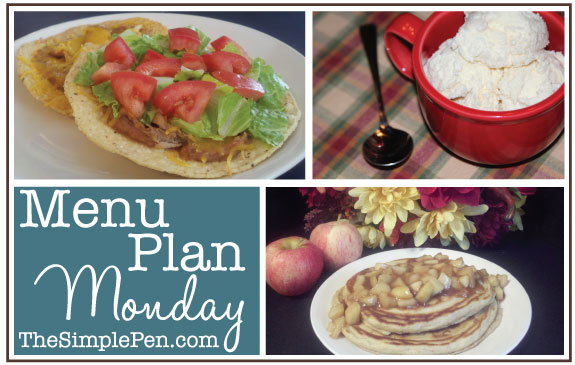 One thing I love about a new year is the feeling of hitting the RESET button. We can start fresh with our homeschooling, budgeting, house cleaning (or *ahem* finally putting away the Christmas decorations?), and organizing.
One of the things that helps me feel most organized and in control of the day is menu planning. I'd love to spend more time this year doing freezer cooking or planning for a month of meals, but I'm happy right now with my one-week plan. I guess I don't want to go crazy with planning at the beginning of the year and burn out quickly. I'd much rather get back into the menu groove and see where that takes us.
Here's what's on this week's menu at our house.
:: Breakfasts ::
Apple cinnamon granola
Baked oatmeal muffins with dried cranberries
Gluten-free strawberry muffins (I have strawberries from summer in my freezer!)
Eggs, sausage, fruit
Gluten-free pumpkin muffins
:: Lunches ::
Leftovers
Sandwiches, veggie tray
Munchy lunch (popcorn, apples with peanut butter, veggies)
Chicken & Rice Soup (with leftover roasted chicken)
:: Dinners ::
Teriyaki pork poast, baked sweet potatoes
Spicy rapid roast chicken (minus the spicy 😉 ), steamed cauliflower, red potatoes
Loaded nachos (ground beef, taco seasoning, salsa, sauteed peppers, cheese)
Chicken fried rice (made with leftover roast chicken)
Crock Pot chili, gluten-free cornbread (Yes, I really will post a recipe soon.)
If you're looking for some general menu planning inspiration, stop by Menu Plan Monday hosted by I'm an Organizing Junkie.